*Note: This game has been cancelled or shut down and isn't available for play.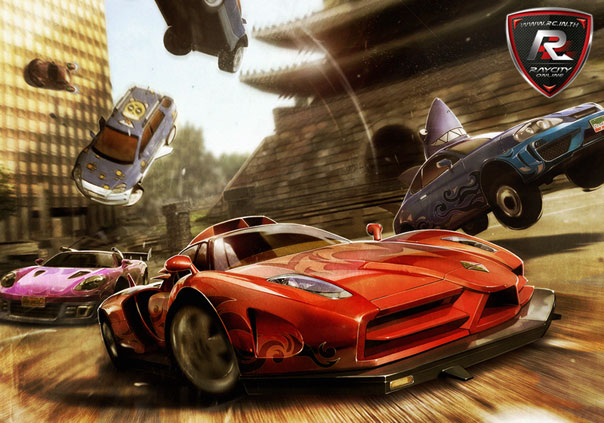 RayCity is the second free to play racing MMO to feature a persistent game world after Drift City. The game offers plenty of single player and cooperative missions to familiarize players with the controls, and unlock access to greater parts of the city. Missions also reward cash which can be used for parts upgrades and other decor. Competitive racing is the main gameplay attraction and RayCity delivers. With up to 20 participants per race, and plenty of tracks to chose from, there's always plenty to do. Like Drift City, RayCity boasts real cars, and some extreme custom designs. The gameplay is also similar; the arcade feel does take away some realism, but its way more fun boosting down the track and easily recovering from crashes than just hitting forward and making controlled turns.
Features:
Quests & Missions – Hundreds of quests and missions divided into several categories. Complete photo-taking, chase, road rage, and party missions to earn experience, items, skills, and new map areas.
Racing Mode – Race with up to 20 players on various tracks. Race modes include single, team, and guild.
Speed Racing Mode – A twice daily event where huge groups of players race between pre set points around the city. Place in the top percentiles and earn special rewards!
Race Skills – Earn experience to unlock new cars and skills. These skills include drifting, boosting, jumping, sliding, and burnout. Watching a car 'jump' is hardcore!
Car Customization – Start with a base model and customize every aspect of your car. Engines, body parts, and the exterior. Decals, paints, rims, and other accessories give each car a unique look.

Status: Shut Down
Business Model: Free to Play
Developer: EA's Seoul Studio
Publisher: AsiaSoft
Category: Stand-alone
Genre(s): 3D, MMO, Sports, Simulation
Platforms: PC

Editor's Score: 3/5

Pros:

+Large, persistent environment.
+Varied mission modes, including group missions.
+Form and manage racing clubs (guilds.)
+Up to 20 players per race.

Cons:

-Hosted in Singapore, may suffer from high ping.
-'Arcade' gameplay style may put off racing purists.



Recommended System Requirements:

OS: Windows XP / Vista / 7
CPU: Intel Pentium 4 2.4 Ghz / AMD 2400+ or better
RAM: 1 GB or more
GPU: nVidia GeForce 5700 / ATI Radeon 9800 or better
HDD: 3.0 GB