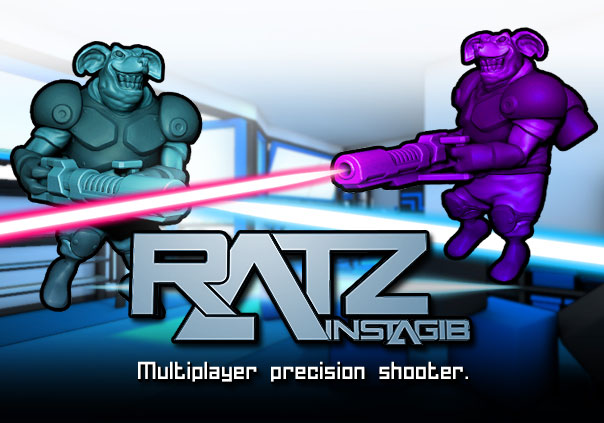 Jump in and get gibbed in Ratz Instagib, a multiplayer FPS title by Lino Slahuschek and published by Rising Star Games. Based on the classic Quake 3 Arena multiplayer, Ratz Instagib's gameplay is completely focused on the railgun weapon, where each shot can kill in one hit. Along with rocket jumping, Ratz Instagib is great for fans of classic twitch-based shooting action.
Enjoy the best that FPS action has to offer: Deathmatch, Team Deathmatch, Capture The Flag and also Freeze Tag, then Use fully integrated stat-tracking and leaderboards to help keep track of your progress against players from all other the world.
Unlock loads of customization items to jazz up your Ratz, then choose from loads of beam and frag types to really show off your style, or create your own stages and share them with the community via Steam Workshop.

Status: Released
Release Date: Aug 27, 2016
Business Model: Retail
Developer: Lino Slahuschek
Publisher: Rising Star Games
Category: Stand-alone
Genre(s): 3D, Shooter
Platforms: PC, Mac, Steam

Pros:

+Fast paced, old school Q3A gameplay
+Decent customization
+Full-on map editor

Cons:

-Core gameplay can get stall quickly
-Visuals are mediocre



Recommended System Requirements:

OS: Windows 7 / Mac OS X 10.7+
CPU: ntel i5 Processor, 2.8GHz
RAM: 4 GB
GPU: NVIDIA GeForce GTX 650 or similar dedicated graphics card
HDD: 600 MB