*Note: This game has been cancelled or shut down and isn't available for play.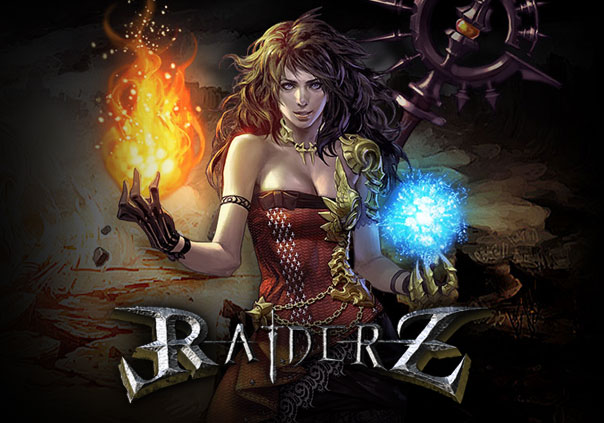 RaiderZ is a free-to-play 3D monster-hunting MMO with FPS elements and non-targeting combat gameplay. Players enter the mysterious kingdom of Rendel as a selected champion to fight in the territorial war between humans and the mutated beasts terrorizing the land. Fight monsters in real time dodging their blows and using counterattacks. Complete challenging quests, clear dungeon instances, and craft your own arsenal of weaponry. Comparable to MAEIT Entertainment's GunZ: The Duel, Tera Online, C9, and Monster Hunter in terms of gameplay players get to wage war against gigantic monsters that are as interactive and responsive as an opponent in a PvP battle. There are no set classes. Heroes can learn over 350 different skills to customize their character as they wish.
Classes:
Defender – This class of warriors are skilled in multiple forms of combat. Their counterattacks are to be reckoned with. Armed with one-handed weapons like the sword or mace they are capable of devastating blows. Defenders are known for their de-buffing skills.
Berserker – The two-handed sword is this soldiers' weapon of choice. Berserkers are experts at honing in on their enemy's weak points and using them to their advantage during combat. This class deals large amounts of damage but tends to lack speed.
Cleric – Valuable to any team, Clerics possess the ability to heal others. They are also skilled in magic and wield a Warhammer staff or mace with precision to take down foes.
Sorcerer – Notorious for their powerful ranged attacks this class relies on the elements of ice and fire to produce devastating magical blows. This class can easily assist from a distant. Sorcerers are armed with one-handed swords and staffs.
Status: Shut Down
Business Model: Free to Play
Developer: MAIET Entertainment
Publisher: Perfect World Entertainment
Category:

Stand-alone

Genre(s):

3D, MMO, RPG, Fantasy

Platforms:

PC


Editor's Score: 4/5

Pros:

+Fast-paced non-targeting combat.
+Hundreds of skills to play with.
+Challenging monsters and dungeon instances.

Cons:

-Limited character customization.
-Lots of grinding required.
-Maps could be better.



Recommended System Requirements:

OS: Windows XP / Vista / Windows 7 (32-bit)
CPU: Dual-Core CPU at 2Ghz or faster
RAM: 2GB or more
GPU: DirectX 9.0c level GPU (Geforce 6xxx or Radeon HD1xxx series or newer) with 512MB Video RAM or more
HDD: 6-12GB minimum / 20GB+ preferred



Description: RaiderZ is a 3D fantasy themed monster hunting MMO that features fast paced real-time combat. Players enter a dangerous world where they must hunt together or die alone.
http://mmohuts.com/wp-content/themes/mmohut/images/homepage/509d0f00b163ecfaea075bffdacdb93d.jpg
by Mikedot
Dragon Project puts you in the shoes of a starting hunter that's out to get monsters that have been plaguing the land of Heiland.
by Ojogo
Ship of Heroes has been doing some work on their UI in recent weeks and released a new blog that goes over the details.
by Ragachak