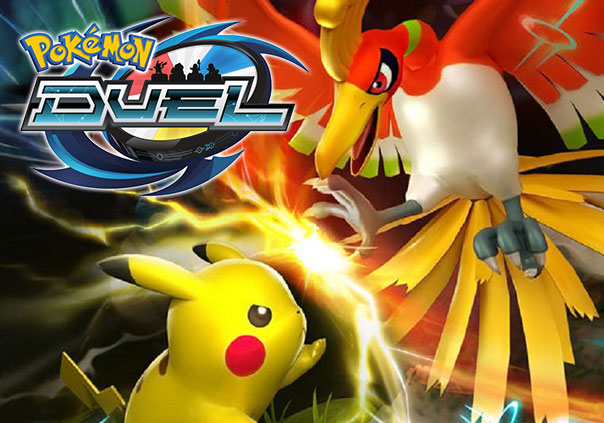 Pokemon Duel is a free-to-play mobile fantasy strategy game developed by The Pokemon Company for iOS and Android. In Pokemon Duel players can build their very own party of Pokemon through representative figures and use them in strategic battles. Battles are fought on a game board where the objective is to move your Pokemon figures into your opponent's goal in their territory before they can do the same to you.
The classic number of six Pokemon can be used to make up your team, each of which has different strengths and weaknesses as well as a set number of steps that it can take. Strategy will be very important as you try to maneuver around the board and set yourself up for future moves, while simultaneously trying to anticipate your opponent's moves. If you end up encountering one of your opponent's Pokemon on your route, you'll need to fight them in a battle if you wish to keep advancing. In battle you'll spin your Pokemon's Data Disk, which is filled with their available moves, to determine what attack gets used. In addition you can use plates at the start of your turn to do different things like enhancing your Pokemon in different ways or even swapping positions of the Pokemon currently in play.
As you battle and grow more experienced you'll be able to acquire more powerful Pokemon to include in your team. Each Pokemon can even be fused with ones that you don't plan on using, increasing their attack power and reducing the chance that they'll miss their attacks. The Training Center is also available for players to hone their skills against predetermined teams, as well as have a chance at earning items and new Pokemon figures in the process.
If you love Pokemon, but find that you're yearning for some even greater strategic depth then Pokemon Duels just might be your calling. By forming your team and helping them grow you'll become an unstoppable Pokemon Master!
Status: Released
Release Date: Jan 24, 2017
Business Model: Free to Play
Developer: The Pokemon Company
Publisher: The Pokemon Company
Category: Mobile
Genre(s): 3D, Fantasy, Strategy
Platforms: iOS, Android

Editor's Score: 4/5

Pros:

+Great aesthetics.
+Cool combination of strategy and battles.
+Many things to do to stay busy.

Cons:

-No time limit for turns.
-Hard to fight paying members fairly.
-Struggles from some performance issues.



Recommended System Requirements:

OS: iOS 7.0 / Android 4.1 or later
HDD: 171 MB