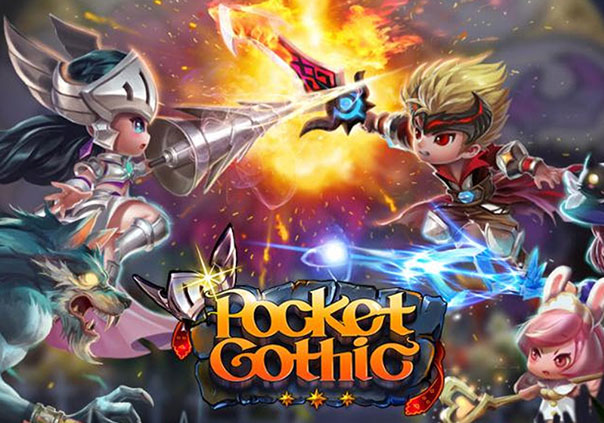 Pocket Gothic is a free to play 3D mobile brawler developed by Fedeen Games for Android and has an upcoming iOS release date. In Pocket Gothic players can lead their chosen hero on an epic journey to restore light to a world that has been filled with darkness. Different champions will be available for you to collect and upgrade on your journey and they will help make you into an even more formidable force. Progress will take place in the form of Chapters, giving you new challenges at every level and new visual areas to explore your way through. You won't only be limited to campaign missions either.
Pocket Gothic also has an Arena where you can square off with other heroes to prove who is truly the best! Other players can even be interacted with by joining up with Guilds. Here you can find other like-minded players to trade tips about combat and join each other on missions. How else will you be able to take down fierce world bosses and get some epic loot?
Whether melee combat is your strong suit or ranged combat is more of what you prefer, Pocket Gothic has you covered with its choice of 4 different player classes. Each class can also morph into their all-powerful Darkboborn form for unstoppable attacks that nothing will be able to withstand!
Player Classes:
Dragoon – Uses heavy armor and her lance to obliterate any foes standing in her way.
Spellsword – A master of dealing heavy damage at both close and far range.
Arcanist – A master of elemental damage and blasting opponents from afar.
Gunslinger – Uses his agility and high rate of fire to gun down opponents with his dual pistols.
Status: Released
Release Date: Nov 18, 2015
Business Model: Free to Play
Developer: Fedeen Games
Publisher: Fedeen Games
Category: Mobile
Genre(s): 3D, RPG, Fantasy, Fighting
Platforms: Android

Pros:

+Guilds can be joined and members can team up.
+World bosses.
+PvP variants in the Arena.

Cons:

-Loads slowly.
-Little story.
-Gameplay gets repetitive quickly.



Recommended System Requirements:

OS: Android 2.2
HDD: 48 MB