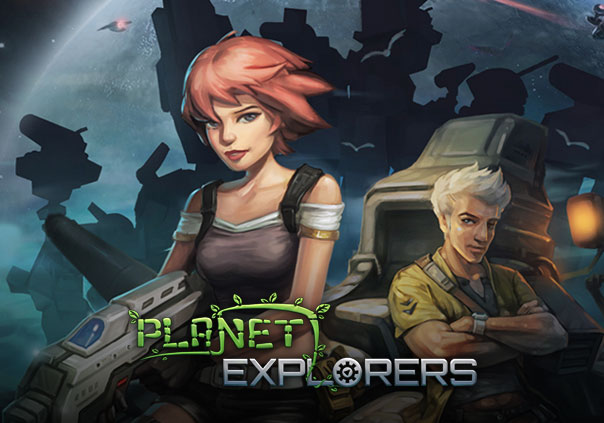 Planet Explorers is a 3D sci-fi sandbox adventure game developed by Pathea Games for PC, Mac, and Linux and it is available for purchase on Steam Early Access. In Planet Explorers it is the year 2287 and a colony ship from planet Earth has crash landed on the planet Maria in an entirely different star system. A few of the colonists managed to survive the crash landing in some lifeboats, but the planet they've discovered is far from forgiving with its fierce, otherworldly creatures that want to preserve nothing but their own survival. Now the remaining survivors must work with each other to stay safe and healthy while attempting to create a new home for themselves.
Planet Explorers features both multiplayer and singleplayer content, each of which has their own game modes. In singleplayer players can take part in Story Mode, Adventure Mode, and Build Mode. Story Mode is intended to be the main way the game is played where players can take part in any and every kind of activity that a race striving for survival would need to do like farming, ranching, colony building, training, diplomacy, and going on extensive missions. You'll be able to speak with a variety of NPCs that will help guide you on your journey for survival and enjoy a fulfilling story mode. Adventure Mode allows players to complete random missions, explore different landscapes, and defeat bosses all in a map that gets procedurally generated from a seed. Build Mode gives players with an affinity for construction the chance to build everything and anything their heart desires with infinite materials and no pesky enemies to distract them.
Multiplayer allows for LAN and player hosted servers of Co-op or Versus types. Co-op games can come in different kinds like adventure, tower defense, build mode and more, all of which involve you working alongside fellow players to achieve a goal. Versus games will pit teams of up to 16 players against each other to see who is the best at survival. The winning team is determined by reaching a cap in a point system that gives points based on resources acquired, kills achieved, objects built and other various survival factors.
Can you help your people once again reach the top of the food chain and survive against unknown odds? Find out in Planet Explorers!
Status: Pre-Release
Release Date: Mar 11, 2014
Business Model: Retail
Developer: Pathea Games
Publisher: Pathea Games
Category:

Stand-alone

Genre(s):

3D, Adventure, RPG, Sci-Fi

Platforms:

PC, Mac, Linux, Steam


Pros:

+Fun to build structures with many different directions to take.
+Unique world to explore.
+Unique vibe for constructions.

Cons:

-Slow development.
-Clunky user interface.
-Needs code optimization.



Recommended System Requirements:

OS: Windows 7 / OS X 10.7 / Linux Kernal 3.2 or later (64-bit versions)
CPU: i5 or greater
RAM: 8 GB
GPU: GTX 760+ HD 7000+
HDD: 8 GB



Description: Planet Explorers is a 3D sci-fi sandbox adventure game where a human colony ship has crash landed on an unknown planet, forcing the remaining survivors to come up with a plan of action to keep themselves safe from the dangerous creatures the planet harbors.
Com2uS is teaming up with Major League Baseball's biggest star, Mike Trout, for month-long sweepstakes.
by Ragachak
London 3 February: LiquidThread, Starcom MediaVest Group's branded content division, has created a unique partnership between Wargaming.net,...
by Mikedot
Spiritwish is the latest mobile RPG to come from Nexon on both iOS and Android and is now free to play.
by Ragachak