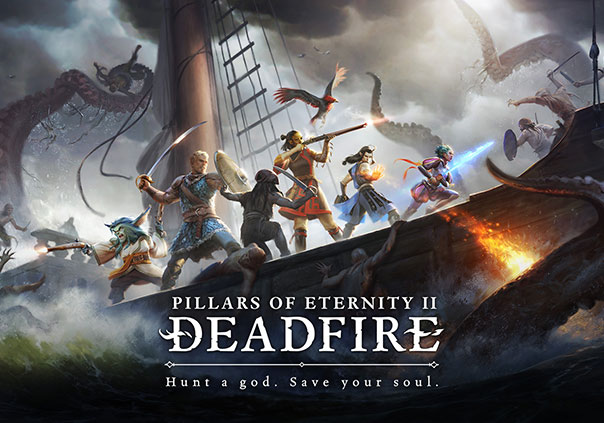 Pillars of Eternity II: Deadfire
Pillars of Eternity II: Deadfire is an upcoming buy-to-play fantasy isometric RPG developed by Obsidian Entertainment for PC, Mac, Linux, and will be available for purchase on Steam. Succeeding the ever-popular original Pillars of Eternity, Pillars of Eternity II is expected to be released in 2018 and will revisit the beautiful environments, rich narratives, and tactical combat that made the original Pillars of Eternity what it is.
Eothas has returned once again and destroyed your home as he emerged from the ground, leaving you on the brink of death. To save your soul you must track down the god and demand the answers that you deserve, but the answers you get may just throw the world itself into chaos. Your adventure will take you to the Deadfire Archipelago that spans thousands of miles of different islands with environments ranging from lush jungles to dry deserts. Many of these islands have yet to have seen the eyes of anyone but the colonials, let alone even been charted on maps. What mysteries could await you in such foreign lands?
Although you will want to converse with Eothas, that doesn't mean the only conflict you'll have is with him. On your journey you'll also have to resolve issues between the locals, trading companies, and fierce pirates. The locals have their own lives to look out for as well. They all have their own affairs to tend to throughout the day no matter if you're around or not. You may end up having to hunt them down to find them.
Companions will accompany you on your adventure and play a pivotal part in your success. Both new and old, companions will change and react to the player's choices throughout the game. The fate of Eothas isn't only of concern to you.
With new dynamic systems, invested companions, and a new story Pillars of Eternity II: Deadfire promises to deliver an even more exceptional experience than the original!
Status: Pre-Release
Business Model: Retail
Developer: Obsidian Entertainment
Publisher: Obsidian Entertainment
Category:

Stand-alone

Genre(s):

3D, RPG, Fantasy

Platforms:

PC, Mac, Linux, Steam



System Requirements not yet known.


Description: Pillars of Eternity II: Deadfire is a buy-to-play fantasy isometric RPG where players will seek answers from a god that destroyed their home. Along the way they will be joined by companions who are also invested in the fate of Eothas.
Developed and published by Wastelands Interactive, Worlds of Magic is a spiritual successor to Master of Magic.
by Abubakr
Gaijin Entertainment announced today that War Thunder will be unleashing the might of the Japanese Navy as the fifth Naval Forces tree.
by Ragachak