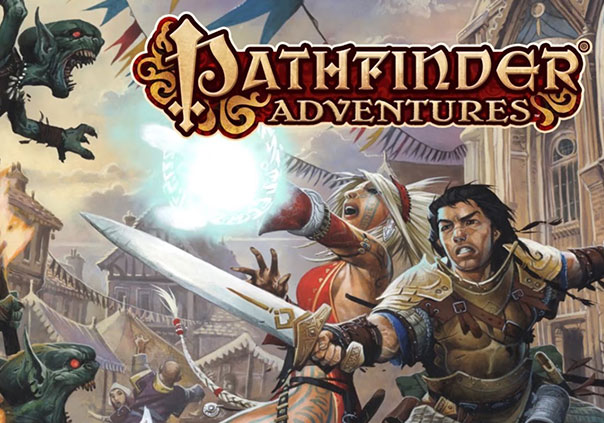 Pathfinder Adventures is a free-to-play mobile fantasy card game developed by Obsidian Entertainment for iOS and Android. In Pathfinder Adventures players can cooperatively battle monsters and villains in a unique, digital adaptation of the Pathfinder Adventure Card Game.
Character development will work similarly to the original card game where characters have classes like rogue, fighter, and wizard as well as classic stats like dexterity, strength, and intelligence. As you explore and overcome different kinds of challenges you'll acquire new allies, weapons, spells, and items that will help you customize your deck to help fit your vision of your character. The game even supports multiple profiles so you can enjoy a thrilling campaign with every character you'd like to.
Every adventure will take you to fantastical places throughout towns, dungeons, cities, and landscapes of the Rise of the Runelords campaign like Sandpoint and Thistletop. Every locale from the original card game has been completely re-imagined from mere card images to full, beautiful, stylized backdrops. You'll even come upon cut scenes from time to time that feature some of Pathfinder's most iconic characters.
Without any necessary set up that the original card game has, the digital adaptation helps you jump straight into the action. Rules and systems are automatically tracked to ensure a seamless, more immersive experience that will have you slaying goblins and making friends in no time.
Pathfinder Adventures is not an identical adaptation of the original Pathfinder Adventure Card Game, but it instead re-imagines the amazing world you've already gotten the chance to know and fleshes it out in new ways that cards aren't completely able to do. If you loved the original game, then you're sure to enjoy this digital version and it's pass-and-play multiplayer that will have you and your allies eagerly awaiting your next exciting campaign!
Status: Pre-Release
Business Model: Free to Play
Developer: Obsidian Entertainment
Publisher: Obsidian Entertainment
Category:

Stand-alone

Genre(s):

2D, Adventure, Fantasy, Strategy

Platforms:

iOS, Android


Pros:

+Flavorful artwork
+Strategic purpose
+Meaningful leveling system

Cons:

-Expensive add-on prices
-Reportedly buggy
-Tutorial needs even more information



Recommended System Requirements:

OS: iOS 7.1 / Android 4.0.3 or later
HDD: 725 MB



Description: Pathfinder Adventures is a free-to-play mobile fantasy card game that is a unique, digital adaptation of the original Pathfinder Adventure Card Game. Go on campaigns with your friends while slaying monsters and evil villains in the process!
Neowiz Games has announced the special rebirth of War of Angels.
by MissyS
Master X Master unleashes their third new character upon the battlefield, and it's the Support Master, Titus!
by Ragachak
Funcom's Age of Conan just got a big update with the introduction of The Pit Master's Arena.
by MissyS