*Note: This game has been cancelled or shut down and isn't available for play.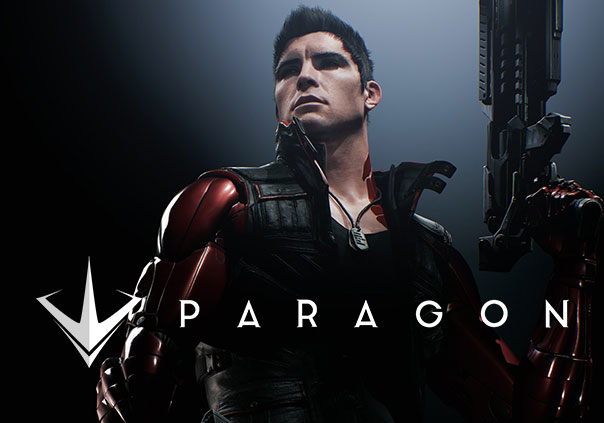 Paragon is a third person MOBA shooter developed by Epic Games for PC and PlayStation 4. The game is slated to be shut down April 26, 2018. In Paragon ten players are divided into two teams of Heroes, each of which has their own basic attacks and a set of four abilities that are either active or passive in nature. Players must battle their way across symmetrical maps into enemy bases and destroy the core of the base to secure victory for their team. Each map includes three different lanes for players to push their minion waves down to destroy the two towers and inhibitor within it before the base's core can be reached.
Heroes come in both ranged and melee classes, specializing in a variety of different situations. For example, Muriel is a ranged support hero that aids her allies with a shield and can fly to her allies with her ultimate ability. TwinBlast is an offensive hero that fires pistols and throws grenades to deal damage at a range.
Killing an enemy hero, eliminating minions, and destroying towers can net players experience and gold. Gaining experience allows players to level up in their match and unlock new abilities in their kit or upgrade ones that they already have unlocked. Gold can be used to purchased upgrades from a deck of cards that players create before their matches begin. Default decks are also available for use for players that aren't comfortable with building their own yet. Decks can have two affinities, containing cards from either of the affinities.
Real-world currency can be used to boost reputation points and experience points, but the game is not intended to be pay-to-win. Players can only purchase cosmetics with real-world currency, ensuring a fair gameplay experience. However, if you're looking to acquire some of the coolest cosmetics in the game you're going to have to fork over a little bit of money for them.
Unfortunately being slated for shut down, Paragon will be disappearing as of April 26, 2018, but that doesn't mean you can't play it before it's gone. Experience the gorgeous MOBA that is Paragon before it's too late!
Status: Cancelled
Business Model: Free to Play
Developer: Epic Games
Publisher: Epic Games
Category:

Stand-alone

Genre(s):

3D, MOBA, Sci-Fi

Platforms:

PC, PS4



Recommended System Requirements:

OS: Windows 7/8/10 64-bit
CPU: Core i5 2.8 Ghz
RAM: 8 GB
GPU: Nvidia GTX 660 or AMD Radeon HD 7870 equivalent DX11 GPU, 2 GB VRAM



Description: With explosive action, direct third-person control, and deep strategic choice, Paragon is setting a new standard for the MOBA genre.
Fedeen Games is excited to usher in the new generation of strategy combat with Jungle Force, now available on iOS and Android!
by MissyS
My.com releases Iron Desert – a cross-platform tactical combat game that drops players in the midst of a brutal war to dominate the desert.
by MissyS