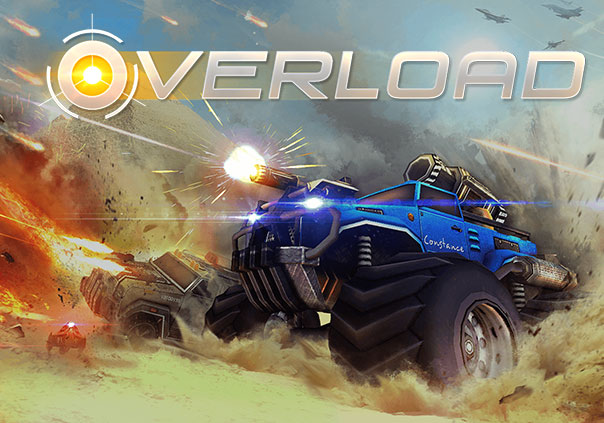 Overload is a free-to-play mobile 3D MOBA developed by Suga Studio for iOS and Android where players can battle against each other in fast-paced vehicular combat. It is the near future and the world has been plunged into chaos by the World Organization of Assassins, forcing people to participate in the deadly competition known as Overload. The competition itself is a series of battles between people driving cars equipped with lethal weapons, meaning raw carnage will be everywhere and the World Organization of Assassins will be watching from afar.
Players will be able to choose and customize their own car from 3 different car classes with a total of 10 different vehicles that have their own unique abilities and stats. Each time you level up you'll earn skill points that can be used to upgrade your car, and skins can be unlocked to make your vehicle even more unique in the arena! When in battle you can pick up upgrades as well, arming your car with extremely dangerous weapons like homing missiles, napalm bombs, mortars, cloaking mines and more!
Three different modes can be played: Deathmatch, Team Deathmatch, and Capture the Flag. In Deathmatch players will battle in a free-for-all setting and see who comes out on top. In Team Deathmatch two teams of players will battle against each other while trying to keep each other alive. In Capture the Flag players will try to secure the enemy team's flag while defending their own. Each game mode will also have its own rankings and the top players in each game mode will be awarded every week!
If you're a fan of franchises like Twisted Metal or Vigilante 8 you're sure to enjoy the action-packed, vehicular slaughter in Overload. Race, dodge, ambush, and blow up other players to your heart's content!
Status: Released
Release Date: Mar 18, 2017
Business Model: Free to Play
Developer: Suga Studio
Publisher: Suga Studio
Category: Mobile
Genre(s): 3D, MOBA, Shooter
Platforms: iOS, Android

Pros:

+Smooth graphics.
+Simple, easy controls.
+Easy to pick up.

Cons:

-No friend or clan system.
-No ranking system.



Recommended System Requirements:

OS: Android 4.4 / iOS 8.0 or later
HDD: 274 MB