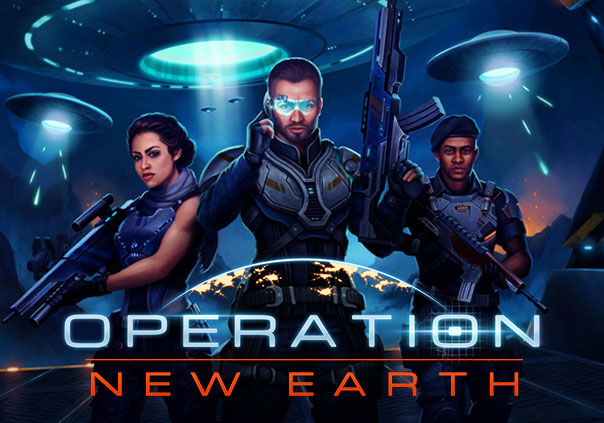 Operation: New Earth is a free-to-play sci-fi strategy game developed by Hunted Cow Studios for iOS, Android, and is available for PC download on Steam. In Operation: New Earth players must form and command the most advanced military facility possible and use it to defend the Earth from hostile alien invasions. Your only protection from the invading aliens is your stronghold, so you must gather resources, level up your base, and work with your alliance to keep it as safe as possible.
Aliens won't be the only threat you'll have to deal with either! Other surviving human factions are also struggling to keep what little territory and resources are left in the world. One of such resources and possibly the most important is Neutronium, an extremely powerful element from an alien world brought to the Earth by a meteorite shower. By collecting Neutronium you'll be able to enhance your armies capabilities like you'd never imagine, becoming the most formidable force on the entire planet.
Your units will be the main source of your power, but you shouldn't forget about your Hero unit either. Elite hero units can be trained to give your units huge boosts and advantages in combat. Without them you would surely fall to enemy forces that have their own hero units.
Alliances will offer you even more protection and bonuses that you wouldn't normally have. By participating in an Alliance you can utilize huge networks of territory to gain advantages over resources and objectives alike. The most coordinated Alliances will even launch full-scale attacks with each other to wipe out other threatening forces.
The aliens are invading and hostile forces are all around you! Make some friends and raise your army to help protect the Earth and yourselves in Operation: New Earth.
Status: Released
Release Date: Dec 14, 2016
Business Model: Free to Play
Developer: Hunted Cow Studios
Publisher: Hunted Cow Studios
Category:

Stand-alone, Mobile

Genre(s):

3D, Sci-Fi, Strategy

Platforms:

PC, Steam, iOS, Android


Pros:

+Good art and sound design.
+Alliance system.
+Great time killer.

Cons:

-Pay-to-win model.
-Lacking PC experience.
-Building armies takes days without purchaseables.



Recommended System Requirements:

OS: Windows XP SP2 / Android 4.0.3 / iOS 8.0 or later
CPU: Intel Dual Core 2.5GHz, AMD Phenon X4 or better
GPU: DX9 (shader model 2.0) capabilities
HDD: 500 MB



Description: Operation: New Earth is a free-to-play sci-fi strategy game where you can protect the Earth from invading aliens by raising your own elite army. Don't forget to make friends along the way either. You'll wish you had once an entire Alliance declares war on you!
Dark Arts Month is being celebrated in Harry Potter: Hogwarts Mystery, with plenty of content and events.
by Ragachak
This brand new season marks the debut of a revamped Cardassian mission series and two new featured episodes.
by MissyS
Aeria Games has announced the launch of several new content updates and languages for its FPS, Alliance of Valiant Arms (A.V.A.).
by MissyS