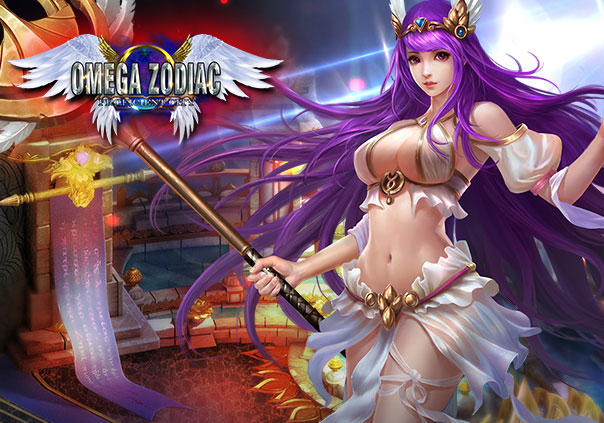 Omega Zodiac is a free-to-play browser-based fantasy MMORPG developed by Game Hollywood that is set to launch on August 25, 2016. The Goddess Athena has long been the pinnacle of wisdom and justice, but she has recently become weakened by the attacks of an evil shadow. She is trying to guide the world towards safety and salvation, but she can't do it alone in her weakened state. Only by gathering the sacred sets and assisting Athena can you hope to come close to stopping the Ragnarok.
In Omega Zodiac gameplay is focused around helping the Goddess Athena. You'll be able to become a Knight, Mage, or Archer through the Gold Sacred system, a system where constellations can grant you unique powers and skills to use. Knights are masters of close-range combat and wield a greatsword to cause great devastation on the battlefield. They are born to fight and die with their swords in their hands. Archers prefer to fight from a distance and use a greatbow to rain arrows down upon their foes. You won't be able to run or hide from these ladies of the bow. Mages are inarntions of the Shadow Dragon himself and are masters of the dark arts. They also fight from a distance liek archers, but instead use their wand to channels spells that cause heavy area-damage.
Throughout your journey in assisting Athena you'll develop your Star Maps, activating more parts to your Sacred Set and increasing your power even more. Every new Sacred Set that you unlock will be even stronger than the last and even more impressive visually, combining 2D and 3D artwork to really make your character shine.
Become the ultimate Zodiac Warrior and help the Goddess Athena thwart evil shadows and save the world in Omega Zodiac!
Status: Pre-Release
Release Date: Aug 25, 2016
Business Model: Free to Play
Developer: Game Hollywood
Publisher: Game Hollywood
Category:

Browser

Genre(s):

3D, MMO, RPG, Fantasy

Platforms:

PC, Mac, Linux



Internet browser required.


Description: Omega Zodiac is a browser-based fantasy MMORPG where the Goddess Athena, who has been weakened by attacks from a mysterious shadow, needs your help. Take on the role of a Knight, Archer, or Mage and earn your sacred sets of armor to help defend the world.
Narvalous, today announced the open beta launch of Chrono Wars: Light of Darkness: an action-packed MMO game localized from the wildly-success
by Mikedot
Today Kill3rCombo revealed a series of new abilities for one of the most popular characters in the free-to-play manga inspired action MMORPG ...
by JamesBl0nde