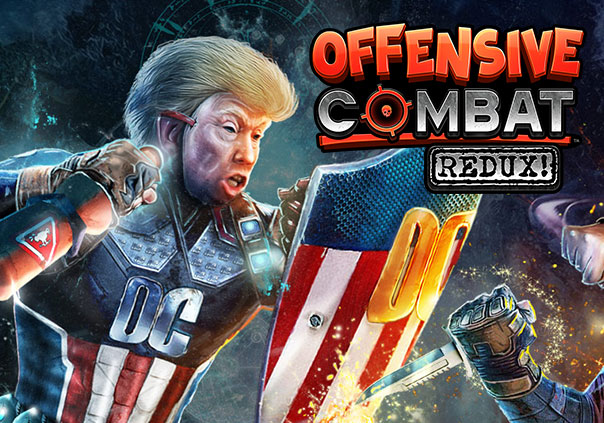 Offensive Combat: Redux is a 3D first-person shooter developed by Three Gates AB for PC and is available for purchase on Steam. In Offensive Combat: Redux players can engage in fast-paced, irreverent online gun-play based in the Offensive Combat universe.
Show off your FPS skills by playing as a number of unique characters like aliens, geckos, chickens, orcs, pirates, commandos, disco stars and more! You're sure to find a character that is just the right amount of wacky for you. Customize them with more than 40 character heads, chests, legs, arms and feet that lead to more than 1,000 unique visual combinations. Gear up with dozens of insane weapons and customize their appearance to fit your character's style.
Whether you're looking for some casual FPS fun or a true test of your FPS abilities, Offensive Combat: Redux has you covered. Jump into singleplayer games where you can take on killer robots, blasting them down with whatever weapon suits your needs. Test out different weapons in the Weapon Range to get comfortable with them, then once you're ready for a true challenge you can join multiplayer matches on over 6 different maps. Teabag your fallen opponents for extra rewards and random drops, but don't get caught their vengeful team mates in the act! Different power-ups like Chainguns, Armor, Double Damage, Rocket Launchers, and more can even be found in your matches that will give you an edge over your competition.
Are you ready to partake in one of the wackiest FPS games around? If so, then get ready to customize your own character, gear up with your favorite weapons, and jump into a battlefield filled with explosions, screams, and teabags! You never know what situation you might find yourself in when it comes to Offensive Combat: Redux.
Status: Released
Release Date: Aug 18, 2017
Business Model: Retail
Developer: Three Gates AB
Publisher: Three Gates AB
Category: Stand-alone
Genre(s): 3D, Shooter
Platforms: PC, Steam

Pros:

+No micro-transactions.
+Great customization.
+Easy to jump into.

Cons:

-Nothing particularly new.
-Sounds don't always come from where they seem.
-Not enough variety in game modes.



Recommended System Requirements:

OS: Windows 7, 8, 10
CPU: Intel Core i5-7400 or AMD Athlon X4 845
RAM: 8 GB
GPU: Geforce GTX 1050 or Radeon RX 570 or higher
HDD: 4 GB