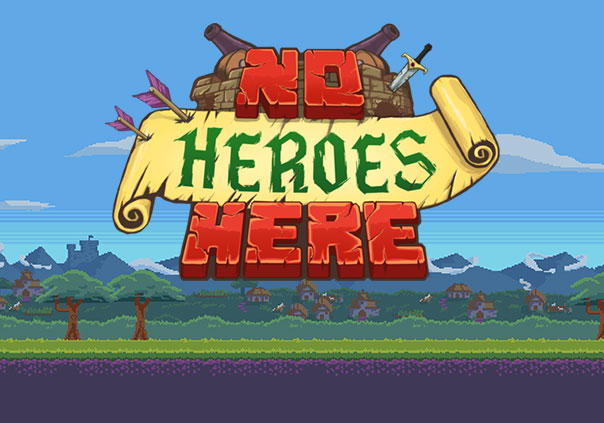 No Heroes Here is an upcoming free-to-play 2D co-op game developed by Mad Mimic Interactive for PC and will be available for download on Steam upon release. The Kingdom of Noobland is at war and its heroes, gone. With the death of the last hero, it's up to the Non-Heroes to save the Kingdom! Across the Castles of the land they must defeat horde after horde of enemies through teamwork.
In No Heroes Here players can become a Non-Hero with the objective of defending their castle. By crafting different kinds of ammunition and feeding them to their cannons players will be able to turn the tables on incoming enemies, raining destruction down upon them. Such a process requires an immense amount of teamwork and coordination between allies, creating explosive and frantic gameplay that combines the tower defense and simulation genres into one game.
Crafting is the most essential part of the game. You and your team won't be able to survive without it! Across every Castle are different mineral stations and deposits that players can interact with to create usable ammunition. Keeping a steady supply of ammunition built up is key to keeping your foes at bay. The cannons themselves are your team's only defensive mechanism. After firing them they become dirty, meaning you'll have to have an ally ready to clean out the cannon's barrel at a moment's notice!
Four different types of enemies will assault your castle: melee, ranged, specialist, and mini-boss. Once they are within distance they will attack the gate of your castle, trying to storm it and bring it to the ground. Mini-bosses are extremely tough enemies that will take a hefty amount of ammunition to bring down, whereas specialists can do anything from empowering other enemies to disrupting the castle's production systems.
In No Heroes Here, teamwork is key. Only the most cooperative players will be able to fend off their enemies and save their castle from turning to ruins. How will your team fare?
Status: Released
Release Date: Oct 03, 2017
Business Model: Free to Play
Developer: Mad Mimic Interactive
Publisher: Mad Mimic Interactive
Category:

Stand-alone

Genre(s):

2D, Fantasy, Strategy

Platforms:

PC, Steam


Pros:

+Challenging singleplayer mode.
+Light-hearted fun.
+Cooperation mechanics are sensible.

Cons:

-No voice chat online.
-Can't have more than 1 local player.



Recommended System Requirements:

OS: Windows 7
CPU: 2.8 GHz intel core 2 duo
RAM: 2 GB
GPU: 512 MB card
HDD: 2 GB



Description: No Heroes Here is an upcoming free-to-play 2D co-op game where players can work together to arm cannons in a castle and defend its gate. Only the most cooperative teammates will be able to manage an entire castle and keep it safe in the process!
Gaijin Entertainment announced today that War Thunder will be unleashing the might of the Japanese Navy as the fifth Naval Forces tree.
by Ragachak
Now that the second closed beta for Blade & Soul has come and gone, it's time to showcase my adventures in the world of Blade & Sou...
by Mikedot