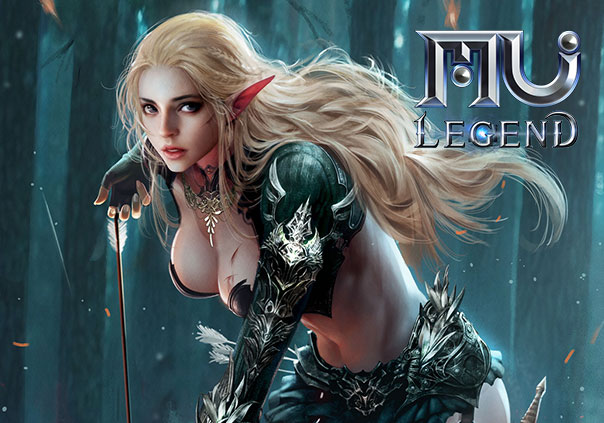 MU Legend is a free-to-play fantasy MMORPG developed by Webzen for PC and is the sequel to the popular Mu Online where a war had been raging between the God of Light and the God of Destruction. Once the God of Destruction was defeated a mage sealed him away back into his own body to usher in an era of peace. However over time the mage succumbed to the God of Destruction's dark hold on his inner self, resulting in his turn to evil.
It becomes the player's job as the leader of the Devias Knights to accompany Icarus on his journey to stop Kundun once and for all and bring an end to the devastation wreaking havoc on the world. Players can choose to become one of four different classes to embark on their journey as:  a Dark Lord, a Whisperer, a Blader, or a War Mage. The Dark Lord is a knight that possesses great power, the Whisperer is a master of stealth and uses a bow, the Blader is a fierce warrior born from rage and the will to protect, and the War Mage uses elemental spells to bring destruction to the battlefield.
Players will need to enter the Rift where they can fight against monsters and help Icarus, each entry presenting new challenges, areas, and creatures to experience. Some days the Rift will be stronger than normal, giving players the chance to reap even greater rewards. As players level even more areas to test their skills will become available, like the Endless Tower, the Altar of Spirits, and Lupa's Labyrinth. Guilds, Arenas, and more also await eager Devias Knights looking for an even greater experience, so players will have a variety of different systems to enjoy.
If you want to bring peace to the world and realize your true potential, then MU Legend is the place to do it!
Status: Released
Business Model: Free to Play
Developer: Webzen
Publisher: Webzen
Category:

Stand-alone

Genre(s):

3D, MMO, RPG, Fantasy

Platforms:

PC, Steam



Recommended System Requirements:

OS: Windows 7/8 (64-bit)
CPU: i5 760, AMD Athlon X4 740 and above
RAM: 8 GB
GPU: Geforce GTX560 / AMD Radeon HD 6670 or better
HDD: 25 GB



Description: MU Legend is a fantasy MMORPG where players can become the leader of the Devias Knights and accompany Icarus on his journey to stop the evil Kundun, but it will not be an easy task. Monsters and an endless Rift will be just the beginning of your problems.
The SMITE 2019 Mid-Season Invitational Begins today (July 8th, 2019) and runs until July 11th, 2019. So let's talk about it!
by Ragachak
Earlier this month, Hirez announced a variety of ways players of their games could donate to the Hurricane Harvey relief fund.
by Ragachak
Rumble Fighter is a unique 3D 'fighting' MMO by OG Planet. Rumble Fighter plays a lot like 'Super Smash Brothers.'
by Guest