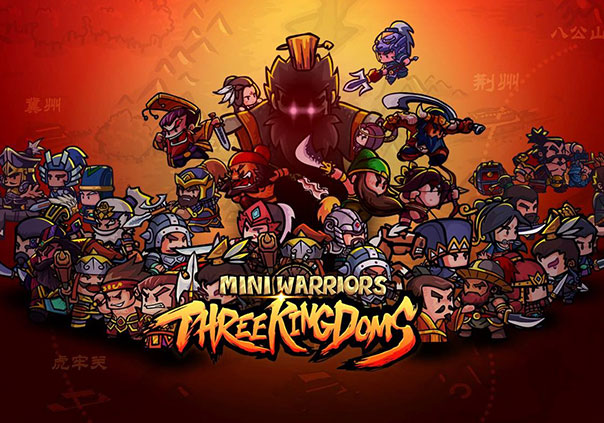 Mini Warriors: Three Kingdoms
Mini Warriors: Three Kingdoms is a free-to-play fantasy mobile strategy game developed by Triniti Interactive Limited for iOS and Android where players can compete against each other to conquer the world and build cities throughout it. The goal is world domination, and it certainly isn't an easy goal to reach.
Massive 25 v 25 player battles can take place and they aren't turn-based either, so you'll have the complete thrill of making decisions on the fly, ensuring a more suspenseful and electrifying combat experience. Every decision will count, so make sure that they're the right ones and use your brain power to your advantage!
Your most powerful ally will be your intelligence. With over 300 different cutesy heroes and 32 warrior types to mix and match into 25 slots the possibilities are practically endless. Cavalry, infantry, archers, plotters, spearmen, armored archers and more can all be used in your army's composition to bring new strengths to the table. Try different formations to figure out what ones you like best and discover the advantages of using different kinds of units.
Don't think your unit formations will be the only form of strategy you need to employ either. You'll need to outmaneuver your opponents on the battlefield to gain an edge on them. You'll even need to make sure that your base strategy itself is adaptable and can take on different kinds of tactics depending on what you come up against.
With 1000 v 1000 unit battles, a slew of different types of units to choose from, and exciting visuals and animations Mini Warriors: Three Kingdoms offers not only fast-paced strategic battles, but it also creates infinite possibilities for the match-ups you may encounter. Its high-intensity battles will have you hooked from the start and its strategic requirements will have you coming back to show how superior your intellect is!
Status: Released
Release Date: Sep 08, 2016
Business Model: Free to Play
Developer: Triniti Interactive Limited
Publisher: Triniti Interactive Limited
Category:

Mobile

Genre(s):

2D, Fantasy, Strategy

Platforms:

iOS, Android


Pros:

+Energetic visuals.
+Uniquely massive battles.
+Cute, entertaining art style.

Cons:

-Expensive in-game currency.
-Some devices have issues handling so many units.



Recommended System Requirements:

OS: Android 2.3 / iOS 7.0 or later
HDD: 329 MB



Description: Mini Warriors: Three Kingdoms is a free-to-play fantasy mobile strategy game where players can command an army in massive battles. Strategy, wit, and quick thinking will all be needed if you want to take down your enemies and spread your influence throughout the world!
Gogogogo.com, a leading provider of online games, today revealed the next in a series of boss background story teasers for the new free to pla...
by MissyS
Based on the immensely popular MMORPG, Grand Chase M will be arriving on mobile platforms worldwide on July 30, 2015.
by MissyS
Kim Hakkyu, the Project Director of "Arcturus", "Ragnarok Online", "Granado Espada" and "Wolfknights" ...
by Mikedot