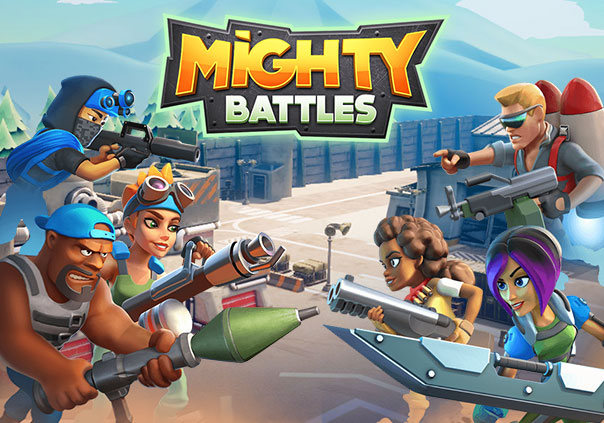 Mighty Battles is a free-to-play 3D mobile arena shooter developed by Hothead Games for iOS and Android. Acting as Commanders players are tasked with destroying any enemy bases they encounter by whatever means necessary.
Take to the battlefield in heated matches where you will deploy your predetermined squad of troops consisting of tanks, helicopters, soldiers and more, helping them reach the enemy's base with your trusty machine gun. Collect deployment points for gunning down the opposition to deploy stronger units that will take your enemies by storm. Whether the situation calls for a grenadier, flamethrower, or rocket trooper there is a unit for you to utilize. Earn victory crates from your wins that can be opened to unlock even more units and resources. Spend the resources you've collected to make your Squad even stronger, ensuring that nobody will be able to stand in your way!
Whether you're looking for some practice matches or action-packed player versus player battles you'll find what you need in Mighty Battles. Challenge other players around the world in live 1v1 battles once you're practiced up and earn medals for your victory. Earn enough medals and you'll find yourself climbing your way up through divisions and to the top of the leaderboards where nobody will be able to deny your strength. By honing your skills and tactical mind you'll breeze through the competition and become one of the best Commanders in the world. Join a clan so you can donate units to each other, participate in Clan Battles, and become even more involved in a competitive community.
Deploy your units down the battlefield and take matters into your own hands by gunning down enemy forces yourself. Eliminate the other Commanders who stand in your way of developing one of the strongest military bases in the world in Mighty Battles!
Status: Pre-Release
Release Date: Nov 16, 2017
Business Model: Free to Play
Developer: Hothead Games
Publisher: Hothead Games
Category: Mobile
Genre(s): 3D, Shooter, Strategy
Platforms: iOS, Android


Recommended System Requirements: