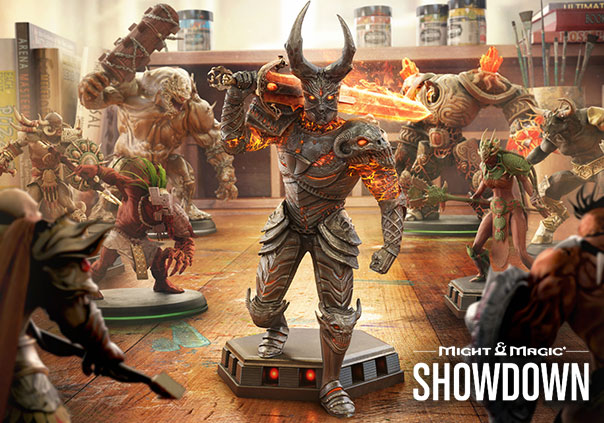 Might & Magic Showdown is a buy-to-play 3D fantasy strategy game developed by Ubisoft for PC and is available for purchase on Steam Early Access. In Might & Magic Showdown you can take part in tactical PvP battles where you can command an entire team of miniature heroes and lead them against your opponent. Skill, wit, predictions, and strategy will all come into effect in every match and determine who is going to emerge victorious.
Your bite-sized heroes can be customized in the most intimate of ways. Whether you want to alter their physical appearance or program their battle actions, you can do it all! Every little customization to your heroes will define your playstyle, set you apart from everyone else, and truly connect your heroes to your strategic preferences. Do you want your purple and blue mage to focus on enemy support heroes while your new black and red assassin dives into the fray to eliminate enemy archers? You can set your heroes to do that and more, customizing their actions and reactions just how you'd like.
Battles take place in real-time where you will have to manage your heroes' skill cooldowns while keeping track of where they might be in their preprogrammed scripts. This will be no easy feat with magical spells flying every which way and intimidating heroes swinging their weapons at your own units. Most importantly you will have to take note of how your heroes' preprogrammed actions are performing, making modifications after your match as you see fit. Learning to master both real-time actions and meshing them with your scripts will be key in winning battles.
Are you looking for a strategic game like none other that gives you the utmost control over your entire army of heroes? Look no further than Might & Magic Showdown, which gives you all that and much more to experience!
Status: Pre-Release
Release Date: Jan 19, 2017
Business Model: Retail
Developer: Ubisoft
Publisher: Ubisoft
Category:

Stand-alone

Genre(s):

3D, RPG, Fantasy, Strategy

Platforms:

PC, Steam


Pros:

+Never a pay-to-win option.
+Impressive control over units.
+Very active devs and community.
+Looks gorgeous.

Cons:

-Long match wait times.
-Heroes feel imbalanced.



Recommended System Requirements:

OS: Windows 10 (64-bit only)
CPU: Intel Core i5-2500K | AMD FX-6100 or equivalent
RAM: 8 GB
GPU: NVIDIA GeForce GTX 780 or AMD Radeon R9 290X
HDD: 4 GB



Description: Might & Magic Showdown is a 3D fantasy strategy game where players can intimately customize and lead their team of heroes against their foes. By customizing your heroes' own reaction scripts to determine how they will act in battle, your units will become tied to your strategies.
Project Blackout is celebrating its first anniversary, with a series of special events for players at all levels.
by MissyS
If there is any herald to that apocalypse of the olden days of value and profit, Planet Calypso is certainly one of them.
by Tagspeech