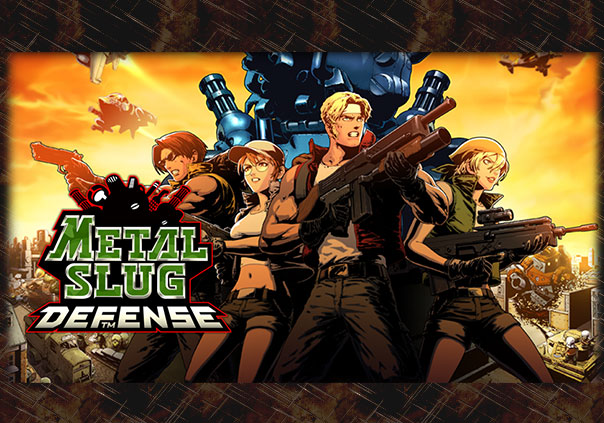 Metal Slug Defense is a free to play tower defense game developed by SNK Playmore for PC, iOS, and Android based on the Metal Slug world. Aliens and massive robots are just the start of the foes you will need to gun down in the name of humanity in Metal Slug Defense. Even some of the most popular characters from the game King of Fighters will join your Metal Slug heroes in gorgeous 2D dot pixel graphics. King of Fighters characters will even come with their own trademark moves that will help you overtake any enemies in your path.
Throughout battles you will build up AP which can be used to purchase units that will push your enemies back and damage their base. AP can also be used to upgrade your AP-generation rate so you will be able to purchase units even quicker.
Battles can be fought in either singleplayer or multiplayer game modes. In singleplayer matches you will test your wits against computer enemies, using your own units to overtake them. Multiplayer matches will pit players against each other in either 1v1 or 2v2 battles where strategies will be tried, tested, and proven by whoever ends up victorious.
Fans of Metal Slug will not be left disappointed with Metal Slug Defense's exciting, fresh take on the Metal Slug universe that involves strategizing, and most importantly the explosions we all know and love!
Status: Released
Release Date: May 01, 2015
Business Model: Free to Play
Developer: SNK Playmore
Publisher: SNK Playmore
Category: Stand-alone, Mobile
Genre(s): 2D, Sci-Fi, Strategy
Platforms: PC, Steam, iOS, Android

Pros:

+Simple and easy to pick up.
+KOF fighters crossover.
+Retro 2D dot pixel graphics.

Cons:

-Doesn't scale up well to higher resolutions.
-Lack of innovation.
-PC units unlocked only with DLC.



Recommended System Requirements:

OS: Windows 7
CPU: Intel Core i5 2300 and up
RAM: 2 GB
GPU: NVIDIA GeForce GT 640
HDD: 500 MB