*Note: This game has been cancelled or shut down and isn't available for play.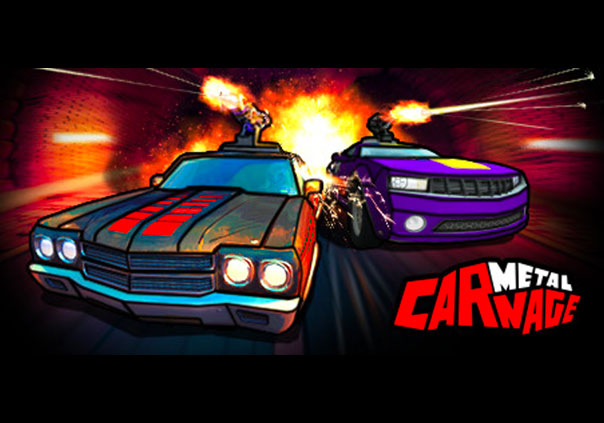 Metal Carnage is a buy-to-play indie action racing game developed by Playvision for PC and Mac and is available for purchase on Steam. In the near future resources are rapidly depleting and governments are no longer in control of the global economy. Instead private corporations run the world and they are constantly at arms over the few resources that are left, but who is to fight for them?
That's where you come in. You will become a raider, selling your services to these corporations and accomplishing localized missions for them. Fight well with your well-armed vehicle and you will be duly rewarded for your efforts, but you'd be surprised just how much tactic and thought goes into a raider's daily life.
As you progress you'll be able to customize your vehicles and buy armor for them, helping you take on even tougher missions that only the most prepared raiders could possibly accomplish. By enhancing your speed and firepower to make sharp turns and earth-shattering explosions nobody will be able to thwart your efforts. Many different types of vehicles are available for you to collect, whether it be a speedy race car or a powerful off-roader. One way or another you'll get the performance you desire!
Two different game modes can currently be played in the game: Deatmatch and Team Deathmatch. In Deathmatch anywhere from 2 to 10 players will battle it out in a free-for-all game mode where the objective is to destroy all other vehicles. In Team Deathmatch two squads of up to 5 raiders will square off with unlimited spawns, trying to destroy the most enemy team members before the end of the match.
Collecting vehicles and customizing them is only the beginning. Learn what it means to become a reaction driver and unleash destruction on whoever gets in the way of your bounty in Metal Carnage!
Status: Shut Down
Release Date: Nov 07, 2016
Business Model: Retail
Developer: Playvision
Publisher: Playvision
Category:

Stand-alone

Genre(s):

3D, MMO

Platforms:

PC, Mac, Steam


Pros:

+Accurate, responsive gameplay.
+Great content for the price.
+Plenty of customization options.

Cons:

-Community is too small.
-Dated sound effects.
-Needs bots for singleplayer content.



Recommended System Requirements:

OS: Windows 7 (64-bit) / OS X 10.10 or later
CPU: Intel Core 2 Duo 2,66 Ghz or AMD Pheno X3 2,4 Ghz or better
RAM: 4 GB
GPU: Nvidia GeForce GT 240 / Radeon HD 6570 or better
HDD: 3 GB



Description: Metal Carnage is a buy-to-play indie action racing game where players can participate in deathmatches for rapidly depleting resources and customize their car to their liking, whether it be for lightning speed or earth-shattering power.
The Elder Scrolls Online is celebrating the one year anniversary of the Imperial City DLC pack with a special sale.
by MissyS
Lekool Games has announced the new patch update to Dragons Call 2. The new patch version 1.92 will feature New NPC, New Maps, New Instances an...
by MissyS