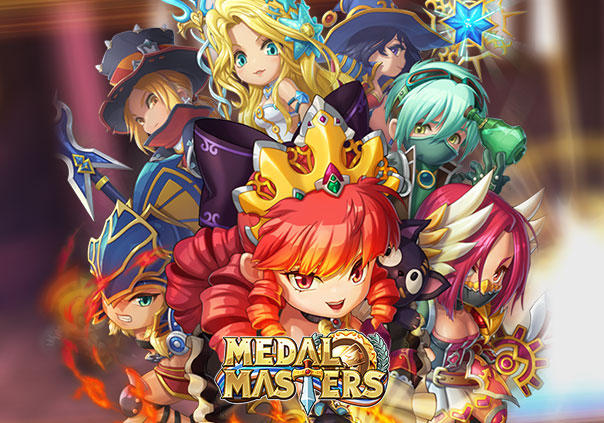 Medal Masters is a free-to-play 3D mobile casual game developed by Enfeel for iOS and Android. In Medal Masters you can experience a cute, anime-inspired world that has been taken over by an army of cursed heroes and their leader, the Devil. You will need to defeat the cursed heroes with your own team of heroes and quick reflexes, working your way to the Devil himself to take him out.
While you are on your quest you will be able to collect over 245 unique elemental heroes to add to your team. Your heroes can also be leveled up and awakened into even stronger versions of themselves, increasing their own and your whole party's strength. The more variation of hero types and elements that makes up your party, the more possibilities you'll have in combat.
Battles are fought in automated matches, but you still do have some control over your success. Using the Blitz skill system you can key in on opportune moments to use your party's skills by putting your own reflexes on display. The more exact your timing, the more enhanced your skills will be.
If you find yourself seeking an extra challenge and wanting to prove your worth, you can participate in Arena battles to take on other players and climb through rankings. Special dungeons can also be taken on to acquire rare items and level up your party members even faster. To participate in battles on a grander scale you can get involved with Pillage Wars to battle even more players where it's either loot or be looted!
With so many things for you to do, a whole slew of elemental heroes for you to collect, and its reaction based Blitz skill system Medal Masters is sure to keep you busy and tapping away at your phone!
Status: Released
Release Date: Feb 18, 2016
Business Model: Free to Play
Developer: Enfeel
Publisher: NEXON
Category: Mobile
Genre(s): 3D, RPG, Fantasy, Casual
Platforms: iOS, Android

Pros:

+Fun, interesting art style.
+Easy concept, hard to master.
+Opportunities to get free gems.

Cons:

-Heavy grind if you don't purchase currency.
-Longer loading time.
-Needs more balancing.



Recommended System Requirements:

OS: iOS 7.0 / Android 4.0.3
HDD: 264 MB