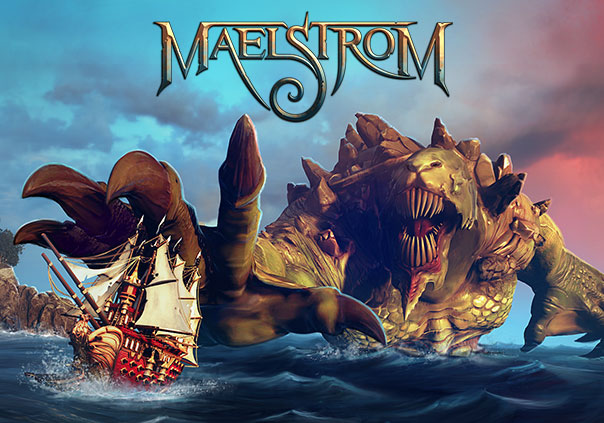 Maelstrom is a buy-to-play sailing MOBA game developed by Gunpowder Games for PC and is available for purchase on Steam Early Access. In Maelstrom players can jump into fast-paced naval battles as a commander of an Orc, Dwarf, or Human warship in the Abyssal Ocean. Why is this ocean so abyssal? Well because it's full of leviathans of course!
The name of the game to plunder as much gold as you can while outgunning and outmaneuvering your opponents. Sink as many other players as you can to collect their bounty while keeping your eye out for floating treasure chests. As the match progresses the hungry sea monsters close in on the safe waters, expanding the 'Dead Waters' area. Stay in the 'Dead Waters' area for too long and you'll end up getting gobbled up.
Cannons are your primary mechanism for taking out other ships. Cannonballs are driven by physics and have a pretty hefty arc, so making sure you're at the perfect angle is key to keeping yourself alive and making sure your enemies sink. Keep your wits about you and react quickly to what you see. Having good prediction skills will come in handy in this game! Additionally you can ram, grapple, and board enemy ships when you're able to, meaning you'll have to watch out for clever captains that see opportunities.
Take full advantage of your race's capabilities and sail the Abyssal Ocean for fortunes. There will be many other captains looking for their slice of the pie so stay on the lookout. You never know what you might find in Maelstrom!
Races
Humans – Great speed and range with powerful broadsides.
Orcs – Deadly boarding, great ramming, and formidable agility.
Dwarves – Tough armor, omnidirectional cannons, and ships can sail in reverse.
Status: Released
Release Date: Apr 11, 2018
Business Model: Retail
Developer: Gunpowder Games
Publisher: Gunpowder Games
Category:

Stand-alone

Genre(s):

3D, MOBA

Platforms:

PC, Steam


Pros:

+Cool concept and awesome combat.
+Fluid animations.
+Well-polished.

Cons:

-Not enough ships available.



Recommended System Requirements:

OS: Windows 7 (64-bit)
CPU: Quad-core Intel or AMD processor, 2.5 GHz or faster
RAM: 8 GB
GPU: NVIDIA GeForce 470 GTX or AMD Radeon 6870 HD series card or higher
HDD: 7 GB



Description: Maelstrom is a buy-to-play sailing MOBA game where players can choose their race and ship captain, then set sail in battle royale for treasure! Just make sure you don't get caught out in dead waters, otherwise a Leviathan might destroy you before you can attempt an escape.
Our senior editor checks out if Grand Theft Auto Online really makes our Rockstar dreams come true.
by MissyS
The Kickstarter campaign for Soulbound Studios' Chronicles of Elyria went live today at 12 PM PDT.
by MissyS
Square Enix have just opened up Creators Club Memberships, giving unlimited access to every building prop and tool in Gameglobe's whopping c...
by MissyS