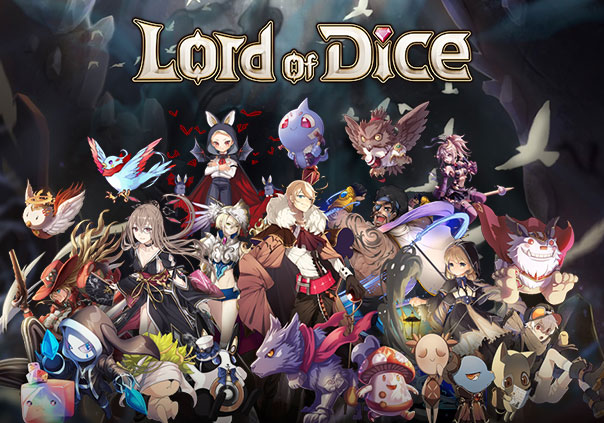 Lord of Dice is a free-to-play RPG with strategic elements developed by Ciousya for iOS and Android. In Lord of Dice players can become a "breaker", a team made up of different characters fighting to get their memories back and escape from the Tower of Eternity.
There characters in your team are called "dicers" and have forgotten their memories. By engaging in PvE and PvP battles you will be able to help your "dicers" regain their memories and become the fullest versions of themselves. Initially your "dicers" will be small chibi forms of themselves, but as they grow they will evolve to their true selves and acquire aesthetic differences. Collecting more "dicers" will add variety to your party and give you even more team combinations to make up. "Dicers" can be acquired through the game shop or by collecting shards through campaign quests and building them.
PvE battles are conducted in a board style system where you need to throw dice to move your "dicers" around. Boards are filled with monsters that need to be eliminated and traps that you will have to avoid. Every board will also require you to battle against bosses to succeed, so you'd better be ready for the fight of your life with every encounter. PvP battles are also very similar to PvE battles, but instead of having an end point like in PvE battles, PvP battles place you and your opponent in an arena where your "dicers" can be moved around and attack from up-close or from afar. The choice if yours how you engage your foes, but the more options you have in your team the better!
Lord of Dice contains a unique mix of cuteness, intensity, and strategy that will leave you ready for more. Hidden complexities will keep you intrigued and trying to discover even more strategies to take down your enemies!
Status: Released
Business Model: Free to Play
Developer: Ciousya
Publisher: Ciousya
Category:

Mobile

Genre(s):

2D, RPG, Strategy

Platforms:

iOS, Android


Pros:

+Paywall isn't high.
+Good difficulty curve.
+Satisfyingly complex pre-battle system.

Cons:

-Not updated frequently enough.
-Evolutions aren't very dramatic after initial one.



Recommended System Requirements:

OS: iOS 7.1 / Android 4.0.3
HDD: 44 MB



Description: Lord of Dice is a free-to-play RPG with strategic elements where players can take control of their own team of chibi characters in board style battles. The game's unique mix of cuteness, intensity, and strategy will leave you always ready for more!
Aeria Games will be bringing X-Legend Entertainment's imaginative new free-to-play fantasy MMORPG Twin Saga to North America and Europe.
by MissyS
Tapfuns has announced that its popular game Knights Fight (Kingdom Defender) is now launched in the SEA region.
by MissyS