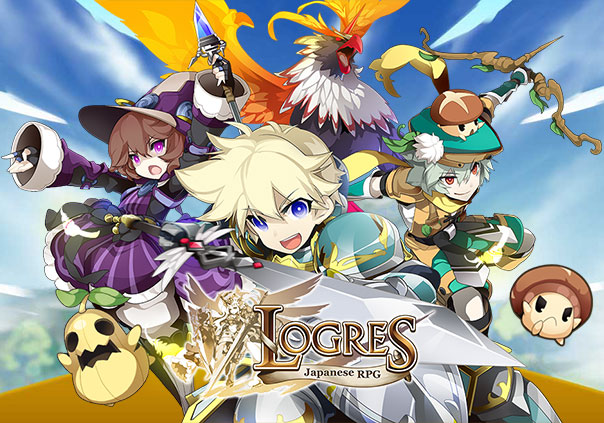 Logres: Japanese RPG is a free-to-play mobile fantasy MMORPG developed by Aiming Inc. for iOS and Android where players can join forces to fight against a dark force bent on destroying the Kingdom.
When creating your character you can choose from either a male or female Fighter. Everyone starts as a Fighter, but quickly you will be able to specialize your character by unlocking more jobs as you progress. Jobs are available in three different tiers. Tier 1 consists of the jobs Fighter, Knight, Ranger, Priest, and Magician. Tier 2 consists of the jobs Rook, Paladin, Mercenary, Bishop, and Warlock. Tier 3 consists of the jobs Warrior, Breaker, Crusader, Samurai, and Necromancer. Each job has its own weapons, strengths, and weaknesses, as well as its own place in a party and jobs can be swapped at any time in town as long as they are unlocked.
Battles are conducted in a turn-based manner, meaning you will manually choose who you want to target and how you want to attack them. During battles you can build up your energy with your attacks, then unleash that energy upon your opponents in amazing weapon abilities. Before you get into battles you can choose another ally to join you at the start of your quest, but other nearby players in the world can also jump into the fray with you to take down foes. Everything from different kinds of slimes to massive bosses will await you at every turn. Make sure to avoid hitting them if you don't want to engage them in battle. Rare forms of monsters can occasionally be encountered too and they will drop rare items if slain.
Logres is a hearkening to old-school Japanese RPGs with everything from its anime-inspired graphics to its turn-based combat. Its straightforward gameplay and addicting weapon upgrade systems will have you playing for hours!
Status: Released
Release Date: May 25, 2017
Business Model: Free to Play
Developer: Aiming Inc.
Publisher: Marvelous Entertainment
Category:

Stand-alone

Genre(s):

2D, MMO, RPG, Fantasy

Platforms:

iOS, Android


Pros:

+No stamina/energy system.
+Classes have great variety.
+Nice anime-inspired art.

Cons:

-Very repetitive gameplay.
-UI too simplistic.
-Tutorial is confusing and cluttered.



Recommended System Requirements:

OS: iOS 8.0 / Android 4.0 or later
HDD: 116 MB



Description: Logres: Japanese RPG is a free-to-play mobile fantasy MMORPG where players can customize their own hero from different classes and fight monsters. Whether you want to fight with a bow, shield, magic, or something in between there is a class for you!
KOG celebrates the third anniversary of Elsword with two new jobs for Elesis and a host of anniversary events.
by MissyS
has launched a summer event titled "GAMES OF WEBZEN" on its global game portal, Webzen.com.
by MissyS
Joyhubs has made a splash this month launching two F2P browser based titles focused on empire building mechanics combined with action combat, ...
by MissyS