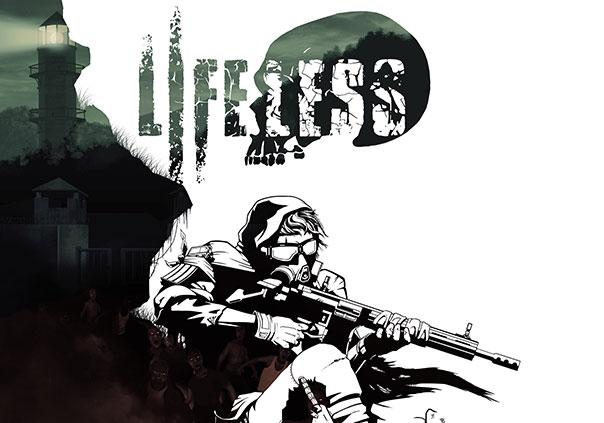 Lifeless is a buy-to-play zombie survival game developed by Rigid-Soft for PC and is available for purchase on Steam Early Access. In Lifeless it is May of 2021 and ten years have passed since patient zero was first created and turned the world into an infected wasteland. Now two factions have emerged and are fighting over limited resources, that is even if they can find them to begin with. Not only that, but there are also swarms of infected that need to be fought off as well.
Players will need to cooperate with each other if they wish to survive in a hostile environment of Stillwater Bay in Maine. Previously a peaceful area, the infection has driven Stillwater Bay to become an area with brutal, bloody combat, traders, merchants and more. Players will need to find supplies, learn skills, and trade with others if they want to keep their weapons in working order. Firearms will of course be your best bet to overpower your foes in any encounters, but if you want to save your ammo you'll have to get up close and personal to take down enemies in brutal melee combat.
Teamwork will be more essential that ever. Players will choose one of two factions to align with and work together to secure airdrops that will give their team great rewards. Both the Nova Guard and Spartan Phalanx factions have their own safe zones with their own merchants and traders where players will be able to meet up with each other and gear up for outings in the wilderness.
In Lifeless gathering resources and fighting off infected has never been so intense! You'll have to do everything in your power if you want to survive the infected wasteland that was previously the earthly planet you called home.
Status: Pre-Release
Release Date: Jun 16, 2016
Business Model: Retail
Developer: Rigid-Soft
Publisher: Green Man Gaming Publishing
Category:

Stand-alone

Genre(s):

3D, MMO, Adventure

Platforms:

PC, Steam


Pros:

+Great graphics.
+Fun concept with potential.

Cons:

-Many bugs throughout.
-Poorly optimized.
-Frequent crashes.



Recommended System Requirements:

OS: Windows 7 or later
CPU: Intel Core i5 - Current Gen
RAM: 8 GB
GPU: GTX 960
HDD: 5 GB



Description: Lifeless is a buy-to-play zombie survival game where players can align themselves with a faction and fight for scarce resources, ammunition, and more! Will you be able to survive not only the infected threat, but the enemy faction as well?
Webzen has announced the opening of "Meteonyker", a new European server for manga & anime MMO game FLYFF – Fly For Fun.
by MissyS
Legends of Mount Hua, the first North American expansion for Snail Games' popular martial arts massively multiplayer online role-playing ...
by MissyS
3000AD announced today that its upcoming MMOFPS Line of Defense will make its debut on Steam Early Access in July as part of its public Beta t...
by MissyS