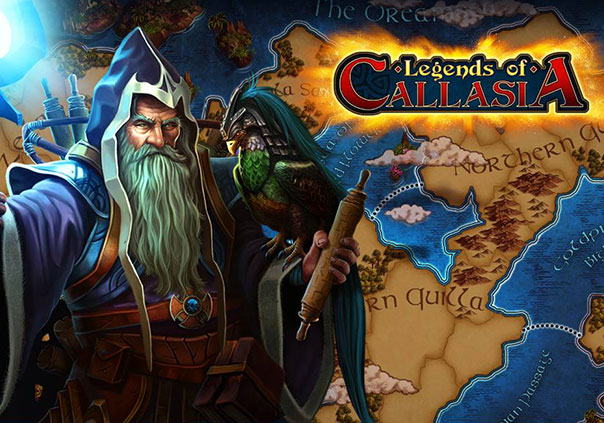 Legends of Callasia is a free to play turn-based fantasy strategy game being developed by Boomzap Entertainment. It is available on Steam Early Access for PC and Mac, and is undergoing development for mobile tablets as well.
In Legends of Callasia players will enter a mystical world where they will need to conquer lands with the help of a vast number of heroes from three different factions: The Revenant, The Hundred Kingdoms, and The Faeborne. Heroes are collected in card-form and can be used to do battle against enemies, and they also can bring some intriguing units into battle alongside themselves.
In singleplayer campaigns players will be able to take on foes and conquer many lands by themselves, and in online multiplayer battles players will go head to head to see who will end up the best strategist. Matches and campaigns can not only be decided by conquering all of your foes, but also by the number of Victory Points that you earn. These can be set at the beginning of a match and whoever reaches the specified Victory Point number first wins the match. Multiplayer also features both ranked and casual matches depending on your preference.
Gameplay is managed from a game board where units can be moved around and conflicts can be started. As in-game seasons change board elements will change as well, like snowflakes or leaves falling on the screen. Sometimes you might even catch a glimpse of a dragon flying across the board or clouds appearing out of thin air.
With no hotseat waiting and simple mechanics Legends of Callasia will have you in-game, fighting, and conquering the world in no time!

Status: Pre-Release
Release Date: Feb 11, 2016
Business Model: Free to Play
Developer: Boomzap Entertainment
Publisher: Boomzap Entertainment
Category: Stand-alone, Mobile
Genre(s): 2D, Fantasy, Strategy
Platforms: PC, Mac, Steam, iOS, Android

Pros:

+Impressive character diversity.
+Short match times.
+High quality graphic design.

Cons:

-Pre-determined battles.
-Few dynamic elements.
-Early Access client is more or less a demo.



Recommended System Requirements:

OS: Windows 7/8/10 OR Mac OS X 10.6.8+
CPU: Intel Core2 Duo 2Ghz or equivalent
RAM: 2 GB
GPU: NVIDIA GeForce 8800GT 512MB or AMD Radeon HD 2900XT 512MB or higher
HDD: 500 MB