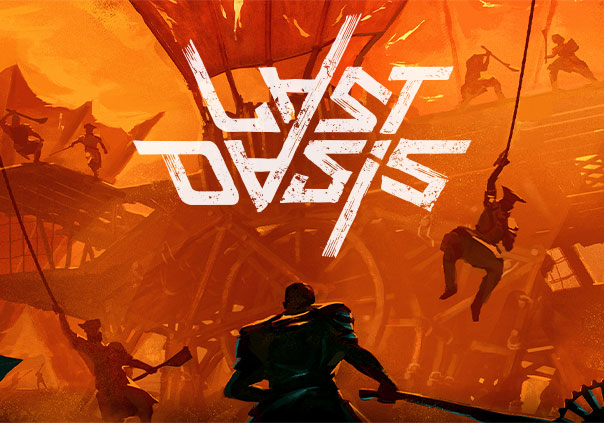 Last Oasis is a survival MMO about being a nomad in a world where the earth has lost its axial rotation.
Story
After a cataclysmic event halted the Earth's rotation, the planet was split into two extreme and deadly environments. Only a narrow band of space between the hot and cold halves of the planet has conditions that can support life. This band moves at the pace of the planet's rotation around the Sun, and all life on Earth must migrate with it to survive. In order to keep moving, the remnants of humanity have built nomadic machines, and a walking city called Flotilla.

Every day, Flotilla transports more nomads into the passing oases, where warring clans fight tooth and nail for control of territory and valuable resources. Some nomads have carved out lucrative positions for themselves and even gained status with Flotilla; however most nomads are locked in a daily struggle for survival, forced to battle both nature and those around them. There will never be rest for the men who built the walkers; they can only move forward.
Features
►Harness the power of wind to propel your walker. Harvest resources, do combat with raiders (or be one yourself), or transport goods to where they're needed as a merchant.
►Head eastward, ever eastward, as you try to outrun the burning rays of the sun and search for resources.
►Travel a world that's as big as it needs to be. As a server's population grows, so too does the number of connected oases.
►Log off safely in "no man's land", where you can hide your walker among the dunes (No offline raiding!)
►Game designed to support individuals and small groups, not just giant guilds.
Microtransactions
Unknown
Status: Pre-Release
Release Date: Sep 03, 2019
Business Model: Retail
Developer: Donkey Crew
Publisher: Donkey Crew
Category:

Stand-alone

Genre(s):

3D, RPG, Fantasy, Sci-Fi

Platforms:

PC, Steam



Recommended System Requirements:

OS: Windows 7/8/10 64-Bit
CPU: Intel Core i5 2400 @ 3.1GHz
RAM: 8 GB
GPU: NVIDIA GTX 770, AMD RAdeon HD 7870
HDD: 60 GB available space



Link to Discord channel on website.
Description: Last Oasis is a survival MMO about being a nomad in a world where the earth has lost its axial rotation.
Magerealm has been garnering worldwide success since the launch of Open Beta this month and things are just getting started for players.
by MissyS
Black Eye Games has announced that it has almost completed the massive overhaul for Gloria Victis that has been in development.
by MissyS
Get ready, Warriors of Light! Final Fantasy XIV's latest update is here, 4.4 - "Prelude in Violet".
by Ragachak