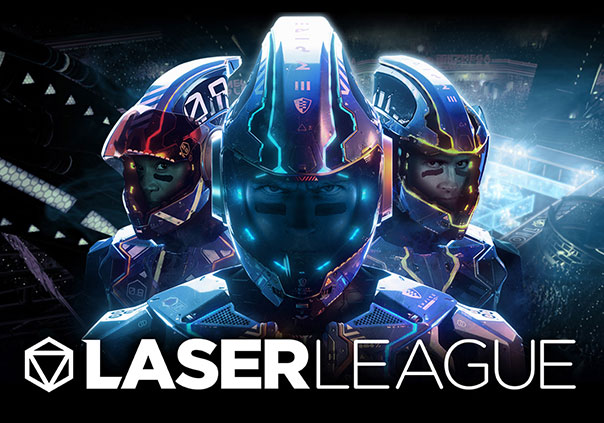 Laser League is a free-to-play 3D sci-fi sports game developed by Roll7 for PC and is available for download on Steam Early Access. The year is 2150 and with all of the technological advancements that have taken place sports are starting to see advancements too. Laser League, one of the newest sports on the rise, pits two teams of up to 4 players against each other in an arena where they will battle for control of nodes that bathe the arena in deadly light.
The moment you set foot in the arena and the battle begins all mayhem will break loose. The arena will quickly become crowded with laser beams of different colors while players race around the arena as fast as possible, capturing emitters and dodging enemies. As emitters are captured they will emit lasers of the captured team's color that will obliterate enemy team members upon contact. Emitters will turn off after a certain amount of time and need recaptured as well, so be ready to be dodging lasers from new directions as new captures happen. Sound intense? You bet it is!
Each player's character has a particular class with a unique skill set. There is a class that can take control of emitters without having to wait for them to turn off, one that can stun other players and knock them into lasers, and many more. Learning what each class can do and taking advantage of their skills will be key to succeeding and keeping your life.
With fast-paced, intense gameplay and strategic team compositions Laser League is sure to keep you on your toes no matter the match you get into. Whether you're looking to battle others online or take on some buddies on the couch you'll be hard-pressed to keep from screaming in frustration and excitement!
Status: Pre-Release
Release Date: Feb 08, 2018
Business Model: Free to Play
Developer: Roll7
Publisher: 505 Games
Category: Stand-alone
Genre(s): 3D, Sci-Fi, Sports
Platforms: PC, Steam


Recommended System Requirements:

OS: Windows 7 (64-bit)
CPU: Intel Core i3-4170 @ 3GHz or AMD A 10-5800K APU @3.78GHz
RAM: 4 GB
GPU: Nvidia GForce GTX 670 or AMD Radeon R9 270x
HDD: 4 GB