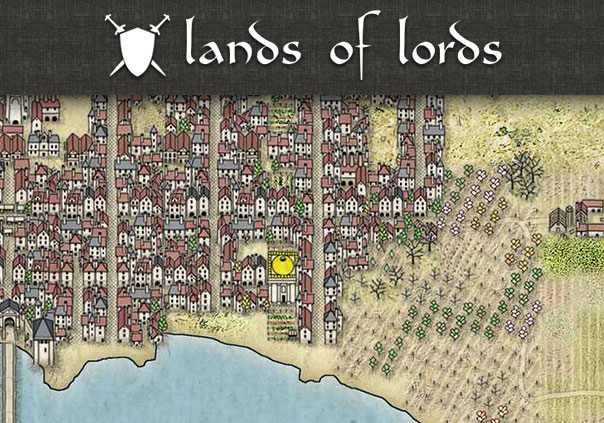 Land of Lords is a free-to-play strategy MMO developed by iLOGOS that can be played in your Internet browser. In Land of Lords players can enter a Medieval world where they can build towns, cities, and even form their own kingdom from the beginnings of just a single plot of land.
How you will rule your land is entirely up to you! Maybe you want to become a powerful Warlord whose armies leave all others quaking with fear? Perhaps you wish to be more civilized and lead the life of a Diplomat, talking out agreements and making economic deals? Both are valid choices, as well as any mixture of the two!
When managing your territory you can get involved on any scale you'd like. Decide what you need built in each of your cities and get right down to the minute level of dictating what each individual citizen is doing. Be sure to keep your citizens happy because they are working for you, after all. What travelers would want to come work for a ruler who wouldn't treat them well?
You can build your domain by settling on lands exactly where you choose. You have all the control you want, but that might come with a price. Choosing to settle in a place with many resources is sure to have many other players contending over the area, but settling too far from others might have you struggling to come up with resources necessary for expansion. Neighboring players will also be looking to expand their territory as much as possible, so you'll need to make sure you don't get in their way unless you're looking for a fight. You ultimately decide where you should be looking to expand next!
Take the avenue towards expansion that best suits you, but don't make too many enemies along the way. After all, a kingdom will only last so long with numerous rivals!
Status: Pre-Release
Business Model: Free to Play
Developer: iLOGOS
Publisher: iLOGOS
Category:

Browser

Genre(s):

2D, MMO, Strategy

Platforms:

PC, Mac, Linux


Pros:

+Can play on different scales.
+Great strategic depth.
+Important alliance relationships.

Cons:

-Takes a long time for some constructions.
-Confusing UI.



Browser with Internet connection required.


Description: Land of Lords is a free-to-play browser-based strategy MMO where players can manage their own kingdom and try to expand as much as possible. The means of expansion is entirely your choice too, meaning you can be as ruthless or diplomatic as you'd like!
With its unique 'horror' atmosphere and top notch graphics, Requiem is worth the download if you're looking for something a bit differe...
by Guest
Wargaming launches World of Warplanes Update 1.4 and showcases its E3 trailer.
by MissyS