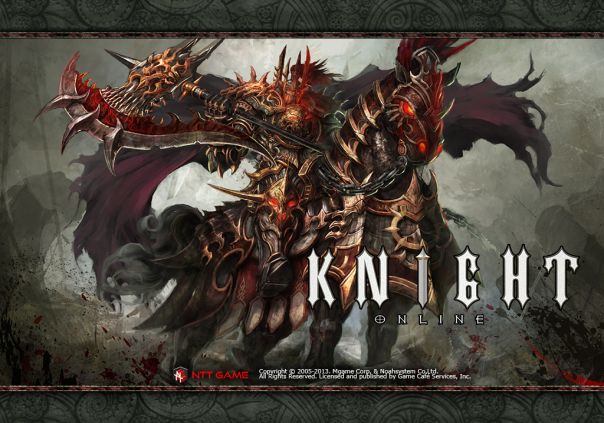 Knight Online is one of the most popular free MMORPGs in the world, the main element for its enduring success has the game's PvP elements. Besides the ongoing battle between the two races; humans and Tuarek (orc like creatures), players can form clans and wage war against one another. Players earn ranks by killing members of the opposing race and can earn special Knight titles, cash rewards, and other benefits. Each of the two nations has several race choices but both share the same 4 class options. Those who chose the El Morad faction can pick between a Barbarian, a Male Human, a Female Human or a Portu. The Karus nation is a bit more interesting and has five unique race choices, Ark Tuarek, Tuarek, Wrinkle Tuarek, Pury Tuarek and Kurian.
The 5 classes of Knight Online are:
Warrior – Warriors are the main melee fighters of Knight Online and possess the highest HP and defense, making them the ideal tanks.
Rogue – Rogues are a versatile class that can specialize in either melee (daggers) or ranged (bows & arrows) combat. Rogues can learn an assortment of skills such as healing, invisibility, and speed boosting abilities.
Mage – Mages are offensive casters who have powerful direct damage and damage over time spells. Mages also have abilities that stun or slow enemies as well as teleport allied players.
Priest – Priests play the supportive role in Knight Online with spells that both heal and buff. Priests also have offensive abilities such as curses which lower their enemies stats.
Kurian/Portu – Mutated Barbarian Warriors who are relentless in battle and posses various skills to decrease or disable an enemy's attack power.
—
Features:
Fantastic zones: Venture into the lands of Moradon, Karus, Ardream and more.
All Out War: Participate in various PvP modes including Lunar Wars, Border Defense and Castle Siege
Steam Update: With the game now available on Steam, players can enjoy a classic MMORPG with all the Steam features that gamers everywhere have come to know and love.

Status: Released
Release Date: Aug 17, 2004
Business Model: Free to Play
Developer: Noah System
Publisher: NTT Game
Category:

Stand-alone

Genre(s):

3D, MMO, RPG, Fantasy

Platforms:

PC


Editor's Score: 3/5

Pros:

+Varied PvP.
+Instanced missions
+Repeatable quests.

Cons:

-Many foreign, non English speaking players.
-Dated graphics.
-Poor translations.
-Limited customization options, only 4 classes.



Recommended System Requirements:

OS: Windows 2000, XP, Vista, 7 and up
CPU: Pentium 3 600MHz or better
RAM: 512 GB
GPU: Any GPU with VGA GPU Acceleration
HDD: 2+ GB



Description: Knight Online is a popular 3D Fantasy MMORPG that chronicles the on going war between the Human nation of El Morad and the Orc like Tuareks of Karus. Players chose which side they wish to fight on but start their adventures in the neutral territory of Moradon City to lean the basics.
What do you get when you mix arena combat, RPG elements, magic, mayhem, and a dose of unique elements? No, not a jumbled mess of a game.
by Outfoxed
First off: The game starts out with no character customization options. Players will just pick their character as either a male or a female an...
by Mikedot