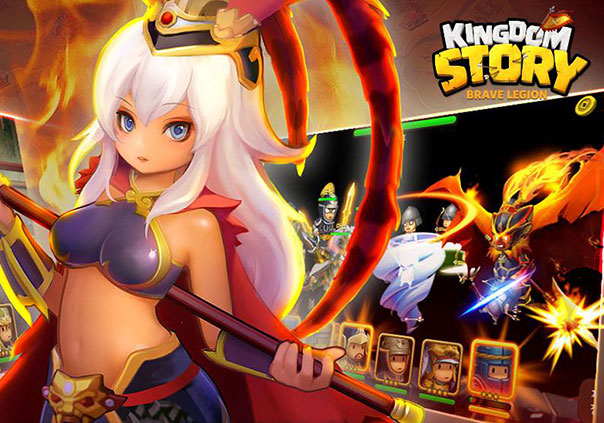 Kingdom Story: Brave Legion
Kingdom Story: Brave Legion is a free-to-play mobile fantasy game developed by NHN Entertainment Corp. for Android devices. In Kingdom Story: Brave Legion players can experience a whimsical and entertaining take on the Romance of the Three Kingdoms like never before. As you progress through the history of the Chinese Three Kingdoms you'll be able to collect numerous cool warriors while building your base from a small encampment to a powerful city.
Don't think the game will be as easy as merely collecting your Chinese heroes though! Heroes like Guan Yu, Zhao Yun, Gan Ning, Zhuge Liang and more will need to be placed in a line-up for battles. You'll have to decide what heroes need to be in your line-up over others to have the best strategic advantage over your enemies possible. Character relationships will even provide different kinds of team-bonuses for you to utilize.
By winning in combat you'll start to take over different territories and erect your outposts, which can have your warriors appointed to them as governors. You'll need to have people watching your cities if world domination is your goal. After all, you don't want any rebellions or invasions from rival factions happening! Inside your base you'll be able to construct different things like farms, mines, walls, and even hot springs to help your cities grow and flourish. The look and layout of China's strongest faction is yours to decide!
In PvP battles you'll be able to strategically select your formation from different kinds of heroes like Strategists, Melee Warriors, Mid-Range Warriors, Archers and Royals. Each kind of unit has their own unique skills and abilities. Mixing and matching these abilities in just the right way is what will help lead you to victory!
With a great selection of heroes, tons of ways to mix and match them, and a fun city management system Kingdom Story: Brave Legion will have you strategist your next Three Kingdoms takeover in a matter of minutes.
Status: Released
Release Date: Nov 10, 2016
Business Model: Free to Play
Developer: NHN Entertainment Corp.
Publisher: NHN Entertainment Corp.
Category: Mobile
Genre(s): 2D, Fantasy
Platforms: Android

Editor's Score: 4/5

Pros:

+Unique combat elements.
+Diverse heroes to select from.
+Hero relationship bonuses.

Cons:

-Needs performance updates.
-Reported disconnect issues.
-VIP system heavily influences gameplay.