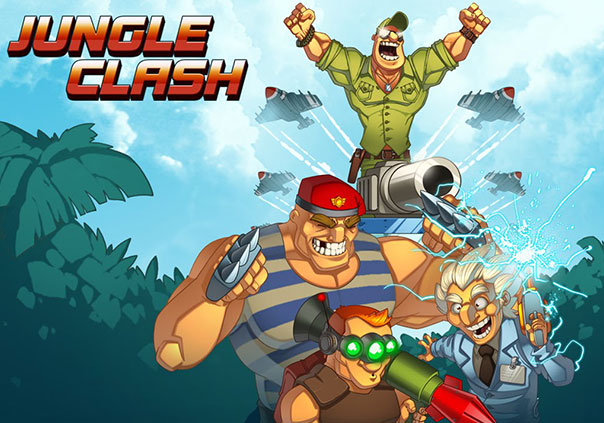 Jungle Clash is a free-to-play mobile strategy game developed by MY COM for iOS and Android. In Jungle Clash you can experience the story of the critically acclaimed Jungle Heat in an all new way. Here you will have to build a fierce army of jungle fighters, armored vehicles, and even some heroes that will help you take down all of those who dare stand in your way, especially the evil General Blood. If you've got the nose for some napalm in the morning and the guts to command your own army then you might just be able to win this race to domination.
You will need to command your units down two different lanes towards your enemy's base, taking out one tower in either lane in order to reach their stronghold. The deck of cards that you form before your match will determine what units are available to you in your matches. New cards will become available the further you progress and can be bought or upgraded with the loot that you earn. Each of these cards will have their advantages and their downfalls, so you will need to spend some time playing to know what units are the most effective in what situations. Regular PvP tournaments will also be hosted, giving you opportunities to get even more loot and potentially strong cards to add to your deck.
If you're a fan of Clash Royale, then you're sure to enjoy Jungle Clash. It is very similar in a variety of aspects, but it does give players a new way to experience the continuation of the story in Jungle Heat. So get out there in that napalm-riddled battlefield and prove your worth!
Status: Pre-Release
Release Date: Jun 30, 2016
Business Model: Free to Play
Developer: MY COM
Publisher: MY COM
Category: Mobile
Genre(s): 2D, Strategy
Platforms: iOS, Android

Pros:

+Units have varying roles to exploit.
+Entertaining, smooth visuals.
+Regular tournaments.

Cons:

-Clearly a copy of Clash Royale.
-Lacks originality.



Recommended System Requirements:

OS: Android 4.0.3 / iOS 7.0 or later
HDD: 64.7 MB