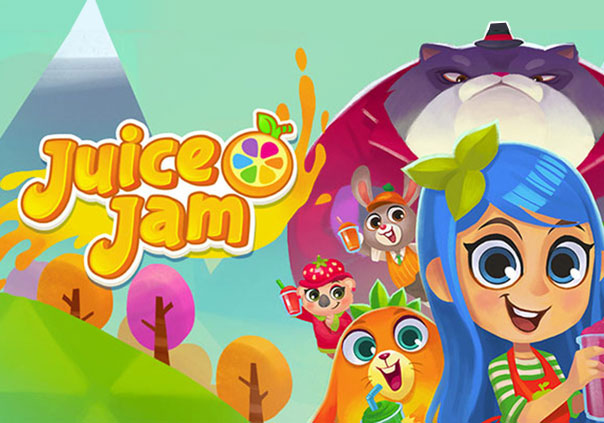 Juice Jam is a free to play casual strategy game developed by Social Gaming Network for iOS, Android, and Facebook. In Juice Jam players can pack up and start their travels in a juice truck alongside an aspiring juice creator named Kiwi, making their way through dozens of colorful lands, satisfying their adorable customers, and splattering cat bosses!
As you make your way through each island you'll encounter new juicy challenges where you will need to match different kinds of fruits to get them to disappear from the game board. The higher the number of fruits you match, the more that disappear, and if you match enough fruits you can even earn power ups to help you better serve your customers.
You won't just be making your matches at random though because you'll need to fill your customers' orders with different fruits. Depending on the customer they may want more, or less of a given fruit for their drink so you'll need to be on top of your smoothie-making game to satisfy them all in a timely manner. Occasionally you might even encounter a large cat customer who will need many fruits to satisfy his cravings or penguins who require a much colder juice alternative in the form of popsicles!
If you're a fan of high production matching games, then you'll certainly love Juice Jam where you can enjoy a healthy serving of 100% organic fun and help Kiwi reach her dreams of juicy success!
Status: Pre-Release
Release Date: Mar 31, 2015
Business Model: Free to Play
Developer: SGN
Publisher: SGN
Category: Browser, Mobile
Genre(s): 2D, Strategy, Casual
Platforms: iOS, Android

Pros:

+Large number of levels.
+Whimsical worlds and characters.
+High production quality.

Cons:

-Gameplay not particularly new or innovative.
-Awkward layout in browser version.
-Have to pay for more lives.



Recommended System Requirements:

OS: iOS 7.0 / Android 3.0 or later
HDD: 97.1 MB



Infinity Wars 2014 Review
It seems that Lightmare Studios kept the game's development tight over those twelve months, providing a noticeably more polished, balanced, ...
by DizzyPW