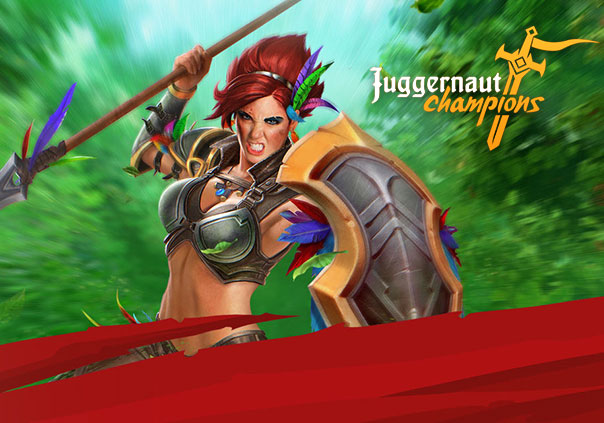 Juggernaut Champions is a free-to-play casual mobile game developed by MY COM for Android and iOS where players can tap there way through fights with numerous kinds of monsters. As you defeat monsters with your vicious taps and fight to protect everyone you hold dear, you'll unlock even heroes to aid you in battle or be able to upgrade the ones currently fighting by your side. Either way you'll be glad to have others fighting by your side. Your heroes won't need instruction from you either! They'll already be putting their all into every swing of their sword, axe, or what have you all on their own.
Every mechanic you unlock on your journey serves only one purpose: destroying any creatures that you come across. This means that you'll be executing amazing combos with various skills to drop monsters as quickly as possible, reducing fighting them to utter child's play.
What is even more exciting is that you'll be able to play online! You won't need to be tied to a network or eat your precious data up just to slay whatever monster you run into. Simply gear up and get ready to kill monsters when it is most convenient for you! Don't think this means that online play isn't important though. Inviting friends will make you even stronger and PvP tournaments will help you show everyone how strong you are while netting you some worthwhile rewards. Daily challenges will also be available for players looking for a challenge and a way to earn more upgrades for their team of heroes.
With extremely simple controls, exciting heroes, and pleasing visuals Juggernaut Champions will have you tapping your phone screen for hours on end. Kill, destroy, smash, and blow away every creature you encounter to ensure your safety!
Status: Released
Business Model: Free to Play
Developer: MY COM
Publisher: MY COM
Category:

Mobile

Genre(s):

2D, Fantasy, Casual

Platforms:

iOS, Android


Pros:

+Offline play.
+Simple controls.
+Smooth animations.

Cons:

-No chat.
-Lacks longevity.



Recommended System Requirements:

OS: iOS 8.0 / Android 4.1
HDD: 123 MB



Description: Juggernaut Champions is a free-to-play casual mobile game where players can protect everyone by slaying various kinds of monsters with their vicious taps. A team of heroes will also need to be built and managed to help players defeat the even stronger foes on the way.
Inixsoft and JM Studios have released game information for Thanatos: The Dragon Chaser, and have also announced its "pre-launch" eve...
by MissyS
Shroud of the Avatar has revealed a literal laundry list of patch notes for update 30.
by DizzyPW