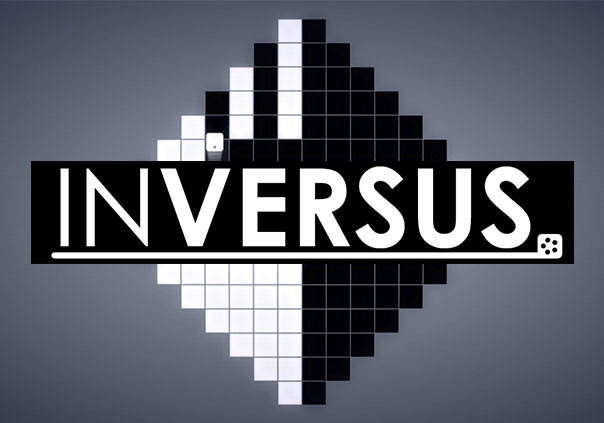 INVERSUS is a buy-to-play 2D negative space shooter developed by Hypersect for PS4 and PC that can be purchased on the Steam and PlayStation stores. In INVERSUS players can battle against up to three of their friends for territory, changing tile colors in their favor.
Your objective is to cut off any path of escape for your enemies while still maintaining your own. Every shot you take will flip tile colors in your favor, helping you wall in your enemies and opening up more movement paths for you.
With both online and local multiplayer matches you'll be able to show off your strategic prowess against everyone and anyone, whether you want them to be right next to you for their upcoming humiliation or not. Competitive versus mode lets players battle for tiles in 1v1 or 2v2 matches, whereas singleplayer and cooperative two-player modes puts players against insurmountable odds of endless waves of enemies. Fight for the highest score possible on constantly changing boards to be the winner of the match!
INVERSUS also includes a huge variety of game boards, each of which encourages different types of strategies and thinking to achieve victory. For further customization there are over 60 different color pallets and over 250 unlockable emotes that will help you outplay your opponents in style.
Simplicity is at its finest in INVERSUS where you will be blasting your way through levels and dominating your enemies by cutting off every route of escape they have, but it's not that easy. Both strategy and skill are rewarded in their own way throughout each match when spacial awareness, quick reflexes, and forethought all come into play. Invert all of the tiles that you can and show all of your friends that your movement capabilities are superior!
Status: Released
Release Date: Aug 16, 2016
Business Model: Retail
Developer: Hypersect
Publisher: Hypersect
Category:

Stand-alone

Genre(s):

2D, Strategy

Platforms:

PC, Steam, PS4


Pros:

+Polished and refined gameplay.
+Great risk/reward decisions.
+Fun soundtrack.

Cons:

-Sparse community for matchmaking.
-Hefty price tag for not enough content.
-Needs more game modes.



Recommended System Requirements:

OS: Windows Vista or newer
CPU: 2 GHz
RAM: 512 MB
GPU: NVIDIA GeForce 9600 GT
HDD: 128 MB



Additional Information:

· PS4, Xbox One, and Xbox 360 controllers supported.

Description: INVERSUS is a buy-to-play 2D negative space shooter where players shoot tiles to change their color and wall in their opponents to achieve victory. Spatial awareness, quick reflexes, and forethought are just the beginning of the skills you'll need to have to succeed.
Shin Megami Tensei Imagine (known as Megaten) has finished migrating its data from its previous publisher, Aeria Games, to Atlus Online.
by MissyS