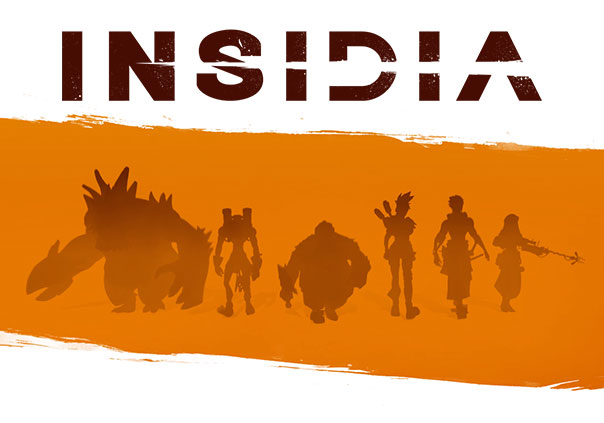 Insidia is an upcoming 3D apocalyptic strategy game developed by Bad Seed and is expected to be available on Steam Early Access in its open beta phase during Summer 2017. In Insidia players can engage in frantic, tactical duels by assembling a team of four champions and taking them into battles.
Champions come from a wide variety of backgrounds and serve their own roles in your team's composition, however don't think that they aren't combat capable. After all, they are the survivors in this post apocalyptic fantasy world. Steam knights, fierce punks, odd mutants and the like all have found their way in the world, and they won't be willing to give it up so easily. Insidia intends to release six characters in the open beta and plans for twelve characters and thirty-six skins, as well as a variety of maps to choose from.
In battle players will choose four powerful characters to fight and secure critical objectives within fast-paced 15-minute matches. These short matches mean that players will need to employ strategy while wasting as little time as possible. Having a strategic mind is great, but you have to remember time is of the essence! Different tactics will be utilized in a "Tactical Mode" as well as a "Resolution Mode" where strategies are executed one after another, reacting instead of simply acting. Blending your champion's abilities together in the game's combo system will enable you to deal devastating blows and wipe your enemies away.
By being easy to learn and hard to master with fast-paced matches, Insidia promises to keep you on your toes in every match. It's always your turn in Insidia, so get out there and lead your champions to victory! Never has fighting for glory be so hectic, strategic, and satisfying at the same time!
Status: Released
Release Date: Feb 27, 2018
Business Model: Free to Play
Developer: Bad Seed
Publisher: Bad Seed
Category:

Stand-alone

Genre(s):

3D, MOBA, Fantasy, Sci-Fi, Strategy

Platforms:

PC, Steam


Editor's Score: 4/5


Recommended System Requirements:

OS: 64-bit Windows 7, Windows 8.1, or Windows 10
CPU: Dual-Core 2.0 GHz or higher
RAM: 4GB
GPU: DirectX 10 compatible graphics card
HDD: 2GB



Description: Insidia is an upcoming apocalyptic strategy game where players can lead a team of champions into battle against rivals and chain their abilities together! Never has fighting for glory be so hectic, strategic, and satisfying at the same time!
GamesCampus has announced Valentine's events for two of its games: Scarlet Legacy and Asda 2.
by MissyS
Explore Planet Surfaces on Xbox One in New Season of Elite Dangerous Expansions, Available Now for $29.99.
by MissyS