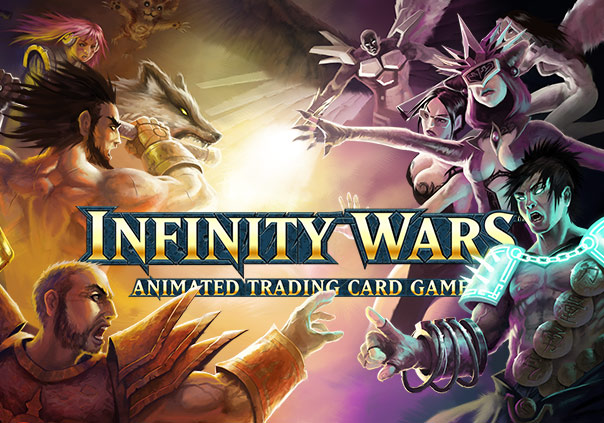 How will you forge your empire? Using tooth and claw, or steel, honor or deception, magic or sword. Overcome all in Infinity Wars The new age Digital Trading Card Game, keeping the best parts of classic TCG's you've grown up loving, and combined them with innovations that allow the Digital Card Game genre to really come to life with exciting new combat mechanics, and game modes.
Infinity Wars seeks to challenge the online iTCG industry with some new changes to the game! Included are a fully animated deck, a complex game strategy, and a "merged deck" mode that combines opponent's deck. The game also promises weekly updates with new quests and cards.
Factions:
Flame Dawn (FD): This faction displays fast and efficient lethality with a fusion of unexpected utility from their ability cards. Capable of delivering more damage than most factions in the first 5 turns, their mid game is enhanced by the versatility of their ability cards. If you choose more Flame Dawn commanders, their late game becomes enhanced and an opponent will be punished significantly for not defending.
Genesis Industries (GI): This faction focuses on the unity and synergy that cards have with other cards. Having access to utility cards can disrupt tempo, given the right timings. Characters are generally improved and strengthened to the point of being nearly unstoppable. There is a heavy risk-reward ratio as you funnel cards, resources and turns into powerful killing machines. If you protect your investment, you will receive a bountiful return.
The Warpath (WP): This faction's play style focuses on raw power and sheer overwhelming battlefield dominance to produce character-based victories. The Warpath's utility involves resource acceleration and character-based interaction abilities. If you believe the best offense involves trampling all defenses, this play style is for you.
The Cult of Verore (CV): This faction has an answer for everything. People attacking you? Kill them. People defending against you? Wipe them out and continue attacking. Characters hanging out in the Support Zone because they don't want to die? They can't hide. Yobo looked at you the wrong way? Kill him even if he looked at you the right way. Verore has access to the largest amount of removal and damage-generating spells in the game. Their characters involve slow but powerful demons which produce a direct threat to their opponent's chances of winning. Then again, who's going to stop them when their opponents are all dead?
Descendants of the Dragon (DoD): This faction believes the best offense is a good defense. They also believe the best defense involves even more defense. How much so? You can win games without this faction even attacking, due to the morale mechanics of this game. Cards within this faction support each other synergistically as the utility cards accessed in this purity increase your staying power long enough to win the day!
Sleepers of Avarrach (SoA): Zombies. Robots. Everything you could want from a faction like this is here. Recurring characters, Graveyard manipulation, fear, death and assimilation. The Sleepers of Avarrach feature a host of stall effects, creation and reanimation tactics and card control.
The Exiles (EX): A rather chaotic faction, The Exiles focus on death, sacrifice and anything that disrupts what players feel is 'normal' when a game is being played. There are discard effects and synergy that exist alongside sacrifice mechanics.

Status: Released
Release Date: Sep 05, 2014
Business Model: Free to Play
Developer: Lightmare Studios
Publisher: Lightmare Studios
Category:

Stand-alone

Genre(s):

2D, Strategy

Platforms:

PC, Mac


Editor's Score: 2/5

Pros:

+Weekly deck updates.
+Fully animated deck.
+Strong tutorial and PvE modes.
+Unique tactical gameplay.
+Simultaneous Turns.

Cons:

-High skill dependency can scare off more casual players.
-Matches can stretch out longer than most TCGs.



Recommended System Requirements:

OS: Windows XP / 7 / 8, Mac OSX 10.5 or later
RAM: 512 MB
HDD: 3GB



Description: Infinity Wars keeps the best parts of TCG's, scraps the annoying bits, and evolves the trading card genre thanks to new mobile digital technology.
WeMade has revealed more new content coming to Riders of Icarus, this time with a PvE focus.
by MissyS
Following their pre-registration period, Yostar has announced their oceanic battler, Azur Lane will hold a closed beta phase.
by Ragachak