*Note: This game has been cancelled or shut down and isn't available for play.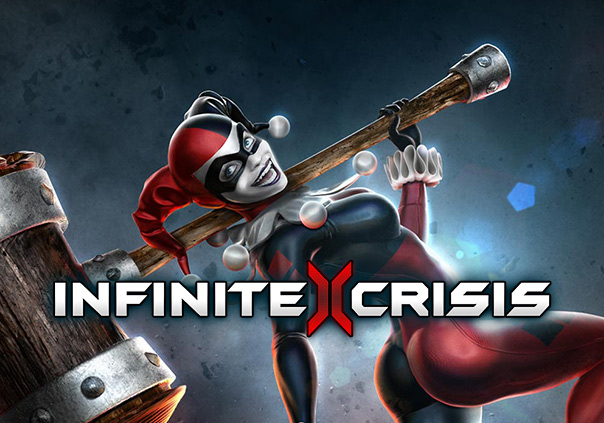 Infinite Crisis is a next-generation, free-to-play MOBA featuring fast-paced battles, streamlined RPG mechanics, and iconic locations and characters from across the DC Mulitverse. Recruit a roster of powerful heroes and villains to command in destructive combat where catastrophic events can reshape the map and the environment itself can become a weapon.
Infinite Crisis features a weekly rotation of free iconic heroes and villains from across the DC Multiverse. Permanently unlock your favorite Champions for free with Merit, earned by playing matches regardless of victory or defeat!
Features:
Seize Control of Catastrophic Events – Rain down meteorites and control powerful alien tech. Wipe out teams and turrets with a destructive blast of the Doomsday Device!
Fight to Save the DC Multiverse – Join online matches and compete in the Protector Trials; rise through the ranks as the Infinite War escalates.
Be a DC Legend – Throw cars and reduce buildings to rubble with the powers of DC's greatest Champions. Master characters to unlock their unique stolen powers, and share them across your roster. Iconic DC settings like Gotham and Coast City are yours for the wrecking.
Core Infinite Crisis Universes
PRIME (EARTH-0) – Home to legends like Superman, Wonder Woman, and Batman, this universe is where hundreds of heroes and villains originate. Universe Prime, also known as Earth-0, is the keystone upon which the Multiverse rests, and so the Monitor has great interest in maximizing the fighting potential of its populace to better defend it from extra-dimensional threats.
ARCANE (EARTH-13) – The Shadow League, a cabal of twisted sorcerers, lusted for absolute rule over Earth. Blinded by ambition, they performed a ritual that extinguished the Sun. With eternal night blanketing the Earth, the world's most powerful magicians united to reignite the Sun, but its new arcane heart forever altered life on Earth. Heroes and villains have since adapted to their magically infused environment, developing strange new abilities.
ATOMIC (EARTH-17) – As the Cold War was brewing between the world's superpowers, a mysterious object from space crashed into Kansas. Mistaking the crash for a first strike, the United States unleashed its full nuclear arsenal against the Soviet Union, who retaliated. The ensuing nuclear war instantly vaporized 97% of all life Earth. The survivors hope the Earth can be healed, but the nuclear aftermath has left them with scars that never will.
GASLIGHT (EARTH-19) – The Victorian era has swept the Earth and a prosperous Age of Invention has revolutionized society through powerful steam technology, and this amazing progress is only the beginning. Heroes and villains have begun to emerge from all corners of society, and with them bring new sources of power and problems far stranger than steam and gas lights.
NIGHTMARE (EARTH-43) – Tales of horrors prowling the night were once just legends on this Earth – until the darkness returned. Ancient and terrible powers beyond comprehension awoke and brought with them an army of monsters. In fighting these creatures, some heroes have fallen, twisting into monsters themselves. Heroes and villains have set aside old rivalries and are united in fighting darkness that threatens to engulf their world forever.
MECHA (EARTH-44) – In this universe, there were no heroes, until a league of scientists known as the Justice Consortium created them. Technology had always been advanced on this Earth, but these new robotic creations were able to think and feel, and wielded powers beyond anything yet seen. They now defend the Earth from threats within and beyond, particularly the Doom Legion and their villainous assassin bots.
Maps Available
Gotham Heights – Unleash chaos and destruction on the elevated streets of Gotham in this explosive capture-and-hold map. Charge into instant action with four allied Champions, either clashing on the streets or taking your chances in the urban jungle.
Coast City – Annihilate whole teams and structures in Coast City, a two-lane map hiding a deadly Doomsday Device. You must adapt between dominating the urban jungle and pushing into the enemy base to destroy their Power Core, or risk subatomic obliteration.
Gotham Divided – Tri-lane havoc meets modern twists in this destructive 5v5 where realities collide. Conquer the urban jungle to unlock and upgrade deployable health, speed, and disable skills. Provoke and vanquish the Leviathan boss to repurpose its weapons and obliterate your enemies.

Status: Shut Down
Release Date: Mar 26, 2015
Business Model: Free to Play
Developer: Turbine
Publisher: Turbine
Category:

Stand-alone

Genre(s):

3D, MOBA

Platforms:

PC


Editor's Score: 3/5

Pros:

+Instantly recognizable characters.
+Destructible environments.
+Impressive distinguishable ability animations.
+Responsive solid gameplay.

Cons:

-Roster is smaller than established MOBAs.
-Alternative Universes for same characters is incredibly confusing when coupled with skin purchases.
-Not enough fresh ideas to separate itself from other MOBAs.



Recommended System Requirements:

OS: Windows 7 64-Bit
CPU: Intel Core i7
RAM: 4 GB
GPU: NVIDIA GeForce 400 Series or ATI Radeon HD 5000 for Desktop, Discrete GPU for Laptops
HDD: 7 GB



Description: Infinite Crisis is a MOBA style game set in the DC Universe that has been twisted upon itself. A wide variety of the traditional DC Heroes and Villains have been re imagined, many in startling new ways.
Rival factions across the galaxy now have another weapon in their arsenals today as diplomacy and trade – along with a new playable race, th...
by Mikedot
The correct choice of weapon is only the tip of the iceberg in Tanki Online, choosing the hull can make the difference between victory and cer...
by Mikedot
GPotato has announced that Flyff Gold will launch July 11.
by MissyS