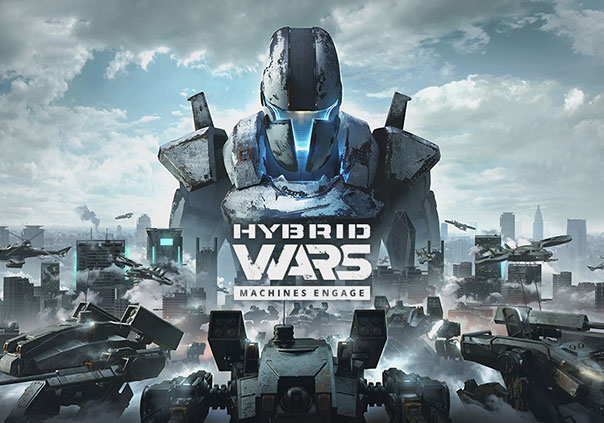 Hybrid Wars is a free-to-play top-down shooter developed by Extreme Developers for PC, Mac, Linux, and will be released on Steam for download. Hybrid Wars is set in the near future of 2060 where humanity is at the high point of a technological revolution and the Earth has become completely integrated with information and technology of call kinds. Tanks, choppers, and other mechanical marvels now rule the sea, land, sky, and just about any other place you can think of. Corporations still control the world, but their power is starting to fall more and more to the technology that they've become so integrated with.
Now it has become your job to take on wave after wave of enemies with your own arsenal of upgradeable mech units. Tanks, robots, helicopters, titans and more will all be at your disposal and help you return to your rightful place at the top of the food chain. Throughout 8 different locations you'll be able to complete over 150 objectives across multiple game modes, both of singleplayer and cooperative varieties. Your units will possess a variety of different weapons, each more useful in some situations than others, but that's not all. The two diverse heroes that you can choose to use and various vehicle types will have 28 additional abilities that you can outfit them with to give you the chance to deal maximum destruction in the way you see as best fit.
Over 50 different types of enemies will be eagerly awaiting the chance to stop you in your tracks, but with quick wits and big guns nothing will be able to stop you in this technologically advanced future. So go select your vehicle of choice and start obliterating your foes in no time!
Status: Pre-Release
Business Model: Free to Play
Developer: Extreme Developers
Publisher: WG Labs
Category: Stand-alone
Genre(s): 3D, Sci-Fi, Shooter, Strategy
Platforms: PC, Mac, Linux, Steam


Recommended System Requirements:

OS: Windows 10 / OSX 10.11 / Ubuntu 14.04 (64-bit versions)
CPU: Core i7
RAM: 8 GB
GPU: nVidia GTX 770 or equal
HDD: 12 GB