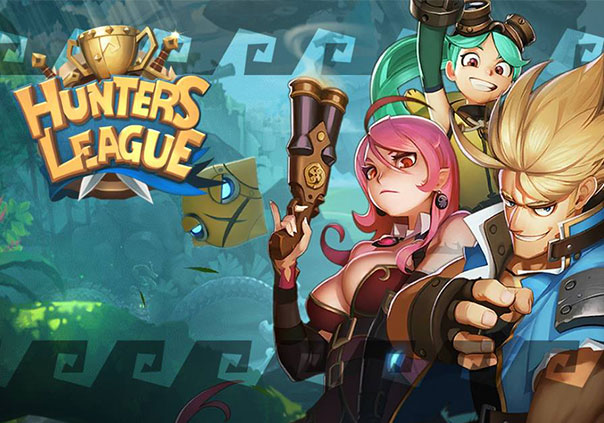 Hunters League is a free-to-play mobile fantasy RPG developed by O'ol Blue Inc. for Android. In Hunters League players can form a team of hunters, trying to help them become the best Hunter Team in the entire world.
Your team is composed of three different hunters, but they all can serve very different roles. Your hunter's role is not determined by who they are, but instead by what weapon you equip them with. Your weapons can even evolve which can further enhance and change your hunters' roles. This means your hunters can adapt to whatever role you need, giving you the most versatility possible when forming your team. Figure out what team compositions fight most effectively together to become one of the best Hunter Masters in the world.
Battles are fought against monsters in real-time, meaning you'll have to be on your toes if you want to emerge victorious. Using simple finger gestures you can actively control your hunter's actions as a whole, or individually. Whether it's dodging traps, avoiding hits, or executing attacks at the perfect time your team is going to need your help to bring your opponents to their knees. Your team can even use 'Collabo Skills' to perform exhilarating, collaborative attacks and make use of all of their potentials at once!
PvP battles can be fought against other teams of hunters led by their own Hunter Masters. Challenge them in both Resource War and Arena modes to show off your own team's power. There are even Dungeons and Boss Challenges that change every day, meaning your tactics and even your hunter team itself might need to change daily.
Do you think you can manage an entire team of glory-hungry hunters? Try your hand at creating your own team and helping them dominate anything that stands in their way in Hunters League.
Status: Released
Business Model: Free to Play
Developer: O'ol Blue Inc.
Publisher: O'ol Blue Inc.
Category:

Mobile

Genre(s):

3D, RPG, Fantasy

Platforms:

Android


Pros:

+Fun, engaging combat.
+Unique characters and creatures.
+Lots of character control.

Cons:

-Stamina system.
-Cluttered UI in town.





Description: Hunters League is a free-to-play mobile fantasy RPG where players can lead their own team of hunters against monsters and other hunter teams. Outfit your hunters with different weapons to change their roles and evolve weapons to further enhance and change roles.
G4Box, a leading North American free-to-play game publisher, announced today the official commercial launch of its new free to play browser ba...
by MissyS
End-game content is a myth, and players who reach the level cap are soon introduced to the new practice of "AFK in town".
by Guest