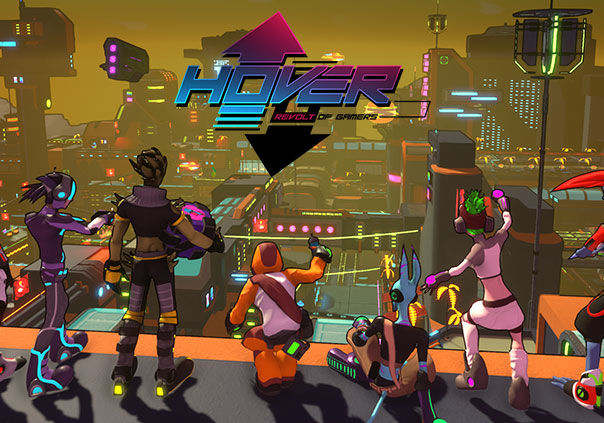 Hover: Revolt of Gamers is a buy-to-play 3D adventure parkour game developed by Midgar Studio that is available for purchase on Steam and is expecting a Q4 2017 release for PS4 and Xbox One. In Hover: Revolt of Gamers players can experience the thrills of a fast-paced parkour game in Hover City, one of the most high tech cities in the universe.
The Great Admin of this futuristic planet has completely cut ties with the Galactic Union, establishing a dictatorship instead and ruling over the planet's subjects. He's even outlawed fun, making both it and entertainment in general illegal. What a travesty! You must take charge of a newfound team of young rebels, the Gamers, and fight against the oppressive hand of the Great Admin. How you might ask? By having as much fun as possible, parkouring your way through every inch of the city, helping out fellow citizens, and finding a way to the Orbital Station!
As you play you'll unlock 10 different characters, each with their own skills to take advantage of. You can customize their colors and improve their skills to create a fantastic parkour team to swap in and out with. Nothing is better than whizzing around the city, performing grinds, bounces, pushes, and runs in the style of your own color!
Hover: Revolt of Gamers can be either a singleplayer or multiplayer experience depending on your preference. At any point in the game you can switch from offline to online and vice-versa, joining other players to progress cooperatively or playing as a lone wolf. The game is also very community-driven, allowing players to create missions and mini games to share with others for even more fun.
Race your way through the city and bring down the Great Admin with your parkour skills in Hover: Revolt of Gamers. The city needs you and you need to have some fun!
Status: Released
Release Date: Mar 31, 2017
Business Model: Retail
Developer: Midgar Studio
Publisher: PLAYDIUS Ent.
Category: Stand-alone
Genre(s): 3D, Adventure, Sci-Fi
Platforms: PC, Mac, Linux, Steam, Xbox One, PS4

Editor's Score: 4/5

Pros:

+Fun, fast-paced gameplay.
+Tons to do.
+Fluid animations.

Cons:

-Stealth elements aren't great.
-Lacks grouping system.
-Map design needs work.



Recommended System Requirements:

OS: Windows 8.1 (64-bit) / OS Sierra (64-bit)
CPU: Intel® Core™ i3-4130 @3.4 GHz
RAM: 4 GB
GPU: NVIDIA® GeForce® GTX 650 / AMD Radeon™ HD 6870
HDD: 2 GB