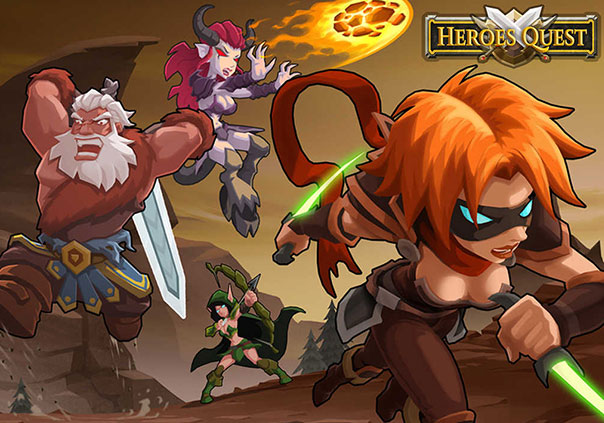 Heroes Quest is a free-to-play mobile fantasy RPG developed by Viper Game for iOS and Android where players can battle against hordes of enemies in a mystical, roguelike world. Throughout the Land of Arun players will follow their prophecy and battle through challenges along the way, collecting over 40 different unique heroes to help them in their encounters with the creatures of the Abyss. Humans, Dwarves, Elves, Goblins, Werewolves and more will all become recruitable to your band of heroes as you progress throughout your journey, but will they be enough to take on the evil dragons at the end of your quest?
In battle both active and passive skills will play an important role. Learning to combine the two while dealing damage, defending your heroes, casting support spells, and inflicting various kinds of crowd control effects will be key to your success. Vast landscapes like North Mount Wood, Maze of Shadows, and Gravel Heights can be explored while PvP arenas and the Maze of Shadows will give players different ways to test their skills against bosses and even other players. Expedition teams will need to be defended while also working to loot others' and vanquish your enemies.
The most seasoned adventurers will be able to acquire legendary items that are affixed with special effects to help bring the strength of their heroes to new heights. Each hero will have their own unique characteristics and skills to bring something new to your party, but the decision of what heroes to bring into battle will ultimately be yours.
Which heroes will you choose to face the monsters, mazes, perils and dangers of Arun? Search for maps, dodge traps, and discover chests with hidden treasures in Heroes Quest with your group of powerful heroes. The world of Arun awaits you!
Status: Released
Release Date: Jun 15, 2016
Business Model: Free to Play
Developer: Viper Game
Publisher: Viper Game
Category: Mobile
Genre(s): 2D, MMO, RPG, Fantasy
Platforms: iOS, Android

Pros:

+Don't have to buy in-game items to win.
+Easy to pickup and learn.
+Runs smooth on mobile devices.

Cons:

-English translations aren't the greatest.
-Feels very grind-oriented.



Recommended System Requirements:

OS: Android 4.0.3 / iOS 7.0 or later
HDD: 201 MB



Combat Arms Adds New Map - Vertigo
Combat Arms adds the new Map Veritgo as well as a new training mission. Players can also purchase a new sniper rifle called M-200.
by Guest