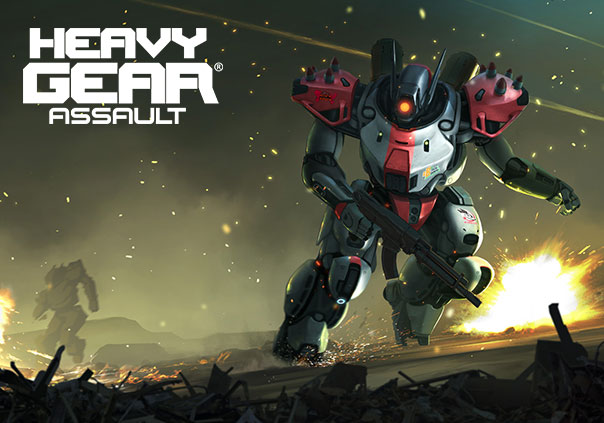 Heavy Gear Assault is a buy-to-play 3D mech shooter developed by MekTek Studios for PC and Linux and it is available for purchase on Steam Early Access. In Heavy Gear Assault players can become pilots on the distant planet of Terra Nova, fighting in a high-stakes game called Gear Dueling. There you can earn fame and fortune by fighting on the arena floor, but that doesn't mean the danger isn't real!
Heavy Gear Assault puts players in control of their very own multi-ton, humanoid war machines called Gears. These mechs are outfitted with the latest in technological advancements: a Rotary V Engine, a super efficient internal combustion engine, state of the art movement systems and more! Gears can be fully customized to your liking, altering how they perform in battle. They can be outfitted with different things like treads, wheels, armors, and weapons to improve your combat effectiveness and maneuverability.
In battle you'll need to blast away at any opponents you can find, trying to lay waste to their Gear before they can do the same to yours. Gears function on both hydraulic and electric power when in combat, so you'll need to keep an eye on how your gear is functioning and adjust its actions accordingly to keep the two levels balanced. Win your battles and you'll find corporate sponsors clambering to support your efforts.
Whether you want to destroy your enemies with your VibroKatana blade as stealthily as possible, just blow them to smithereens with immense firepower, or something in between there is a weapon for you. Either way, make sure you do it in style since you paid for those sweet customizations after all. Create your own Gear, take it into battle, and capture all of the glory you could ever want in Heavy Gear Assault!
Status: Pre-Release
Release Date: Feb 10, 2017
Business Model: Retail
Developer: MekTek Studios
Publisher: Stompy Bot Productions
Category:

Stand-alone

Genre(s):

3D, MOBA, Sci-Fi, Shooter

Platforms:

PC, Linux, Steam


Pros:

+Fun mech combat.
+Lots of potential.

Cons:

-Community too small.
-Not updated often enough.
-Buggy.



Recommended System Requirements:

OS: Windows 10
CPU: Intel i7
RAM: 16 GB
GPU: NVIDIA GTX 970 +
HDD: 4 GB



Description: Heavy Gear Assault is a mech shooter where players can customize their own high-tech mech robot and take it into battle against others! Whether you want to destroy your enemies with your VibroKatana blade or just blow them to bits with immense firepower there is a weapon for you.
Essentially you are a treasure hunter, out seeking your fame and fortune as everything on the planet tries to kill you.
by Ragachak
The Treasures of the World update ushers in a new way to experience history while collecting Artifacts, including weapons, armor, and more.
by Ragachak
Forced is a new upcoming co-op game that can be played alone or together with 3 other friends. This tactical arcade action game offers somethi...
by DizzyPW