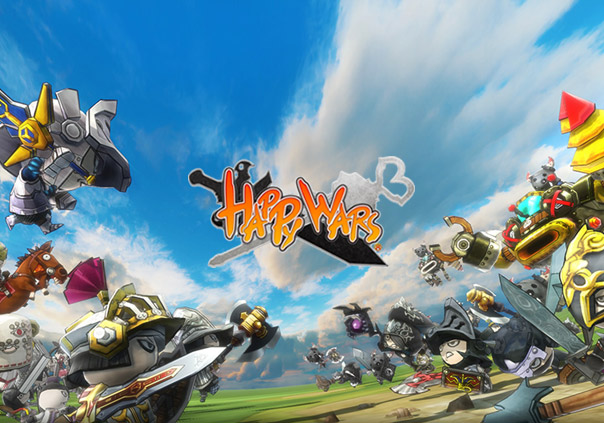 Happy Wars is a free-to-play 3D MMO where players charge through battlefields and take part in crazy, whimsical battles of up to 30 players. In Happy Wars, players are able to fully customize their own character from one of three classes and fight in melee battles and sieges. Happy Wars supports Singleplayer, Co-op, and Multiplayer matches. In Singleplayer players can run solo missions. Co-op is an online game mode where players work together to defeat a team composed of AI characters. Multiplayer is also an online mode, but in this mode two teams of 15 players will battle it out and utilize powerful team-based skills to siege the enemy castle.
The three character classes in Happy Wars are:

Mage – A ranged attacker who uses spells of different elements like fire, lightning, and ice to damage their enemies.

Warrior – A melee attacker who can use a shield to deflect magic attacks, guard allies, and can even cheer for their party members to boost their battle effectiveness.

Cleric – A support class that can heal allies to keep them alive, dispel buffs from enemies, and summon walls to block foes from reaching important objectives.
Status: Released
Release Date: May 28, 2014
Business Model: Free to Play
Developer: Toylogic inc.
Publisher: Microsoft Studios
Category: Stand-alone
Genre(s): 3D, MMO, Fantasy, Casual
Platforms: PC, Xbox 360, Xbox One

Pros:

+Fully customizable characters.
+Team-based skills.
+Very diverse classes.

Cons:

-Non-compliant team members heavily sway the tide of battle.
-Small player community.
-Matchmaking doesn't seem to balance teams well.



Recommended System Requirements:

OS: Windwos Vista
CPU: Core 2 Duo 2 GHz, Athlon X2 or better
RAM: 2 GB
GPU: NVIDIA GeForce 8800GT, ATI Radeon HD3870 or better
HDD: 800 MB