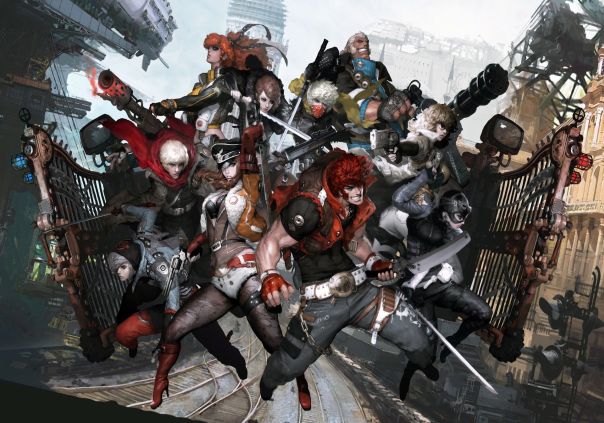 GunZ 2: The Second Duel is a sequel to the original 2003-2005 third-person shooter created by MAIET Entertainment. GunZ 2 features fast paced and vertical acrobatic action which has only been seen in hollywood movies.
Features:
Unique movement: In GunZ 2, a wall is not an obstacle. You no longer have to hide behind walls when you encounter your enemies. You can rather climb up the walls, take to higher ground or move into enemies' blind spot to launch vigorous assaults.
Class system: Various class types are available to suit many different play styles, including Silent Avengers, Gunslingers, Shield Troopers, Shadow Dancers, Striders and Rocket Troopers
Improved PvE: Play campaign mode to fight against the notorious mega corporation with super-national power. Experience battles against massive bosses that requires players to climb and scale in order to attack their weak spots.
Streamlined gameplay: With the removal of techniques such as K-Style, GunZ 2 has an improved control system so players can boast skillful movements with relative ease.
Off the wall: The environment is your ally! Seamlessly incorporate your surroundings into your movement for off-the-wall moves. Run up walls and strike down hard to destroy your enemies!
Take on the world: Whether you want to jump in and out of a quick match or organize within professional clans, with controls that are easy to pick up but hard to master and a matchmaking service that pits you against players of your own skill level, GunZ 2 caters to all your gameplay needs.
Team up: Turn friends into enemies in frantic PvP modes or team up to fight the malicious Adam Corporation in a cooperative campaign mode. Find the right strategy to defeat a continuously growing array of powerful bosses.
Three different character classes with unique gameplay and handling: Be an impenetrable wall as the Shield Trooper, let a hail of bullets (and grenades!) shower down upon your enemies as the Gunslinger or attack so quickly that your foes won't even know what hit them as the Silent Avenger. This cast of playable characters will continuously be expanded to offer new gameplay challenges to dedicated players.
Be as unique as deadly: Power up your arsenal with an intricate enchant system. No items will go to waste as you take them apart and combine scrap parts for new gear. Stack up buffs for the perfect combination that fits your style of play.
Status: Released
Release Date: May 01, 2014
Business Model: Free to Play
Developer: MAIET Entertainment
Publisher: MAIET Entertainment
Category: Stand-alone
Genre(s): 3D, Sci-Fi, Shooter
Platforms: PC

Editor's Score: 3/5

Pros:

+Streamlined gameplay from the original
+Various classes available
+Several weapon types available

Cons:

-Poor netcode system / lack of dedicated servers
Lack of updates or developer support-
-Limited visual customization



Recommended System Requirements:

OS: Windows XP/Vista/7
CPU: Intel Core 2 DUO E6550 or AMD CPU of same level
RAM: 4GB
GPU: DirectX 9 compatible video card, GeForce GTS 250
HDD: 2GB