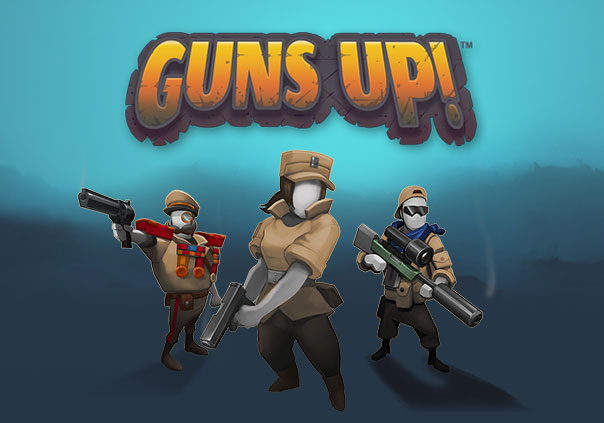 Guns Up! is a free-to-play strategy game developed by Valkyrie Entertainment for PS4 and is available for download on Steam for PC. As a mashup of Tower Defense and RTS Guns Up! puts players in control of the battlefield, deploying units to wreak havoc on their opponents' bases.
Taking charge of a battlefield is a difficult task. Players will gain strategic dominance by supporting the units they've sent down the battlefield with smokescreens, bombing runs, and more! Specials will also drop during combat that can be earned as rewards for victories and used in later matches.
Battles are conducted in real-time so you will need to strategize on the fly! Plot against your opponent, figure out their weak points as you play, and use those points to destroy them. Layout, experiment, expand, and upgrade your base in different ways to adapt to whatever your enemies throw at you. After your matches use game replays to study up and learn what you can do better to make sure nobody gets the best of you again.
Troops can also be customized and upgraded during battles as you gather loot. Some of your Soldiers will gain veterancy as you play, allowing them to be used in multiple battles. Earn medals to permanently boost your Soldiers' stats and recruit new types of Soldiers after battle to expand your roster. When it comes to war the more options you have the better! It will take some experimenting to find effective strategies, but once you've discovered them your foes won't stand a chance.
Take to the battlefield in Guns Up! and show the world why you're a great commander and strategist. With so many kinds of strategies to explore and Seasonal rankings you'll always have the chance to prove yourself!
Status: Pre-Release
Release Date: Sep 07, 2017
Business Model: Free to Play
Developer: Valkyrie Entertainment
Publisher: PlayStation Mobile, Inc.
Category: Stand-alone
Genre(s): 3D, Strategy
Platforms: PC, Steam, PS4

Pros:

+Good sound effects.
+Real-time combat.
+Well-designed.

Cons:

-Slow development.
-Pay-to-win aspects.



Recommended System Requirements:

OS: Windows 10
CPU: Intel Core i3-4160 3.6 GHz / AMD QC A8-7670K 3.6GHz
RAM: 4 GB
GPU: NVIDIA GPU Geforce GTX 560 / AMD GPU Radeon HD 5870
HDD: 2500 MB