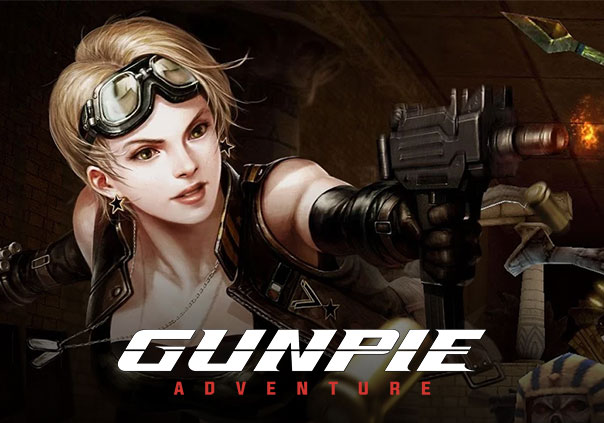 Gunpie Adventure is a free-to-play mobile arcade style shooter developed by NEXON for iOS and Android. In Gunpie Adventure the evil Sirius is attempting to take over the world with his endless horde of henchmen and monsters. Experience the thrill of true arcade fun, adventuring through ancient ruins around the world and gunning down waves of monsters to stop Sirius from his dastardly endeavors and save the world!
Nostalgic 90s arcade gameplay will have you traveling the world in over 200 stages, teaming up with unique characters as you eliminate any baddies in sight. Fast reactions and clever timing will keep you alive, so make sure you're at your best when you're doing something as monumental as saving the entire world!
Skills and weapons are also critical to your success. Master their functions and learn how to use them to see the biggest effect. Ancient artifacts can even be collected on your journeys to give your team magic powers. After seeing the monsters that wait ahead of you, you'll be glad you took the time to acquire them. Don't think you'll just be fighting on the ground either! Some of the monsters you'll encounter are fast and menacing, meaning you'll need a vehicle if you want a chance at destroying them. Gear up in a car, jeep, or tank to improve your odds against the hordes you'll be fighting off.
When you're not off saving the world you can play other gameplay modes, putting your skills to the ultimate test. Collect legendary PIE stones in Exploration, push yourself to the limit in Challenge Mode, and compete against other players in Chase Battle. Whatever way you're looking to show off your skills there is a game mode for you!
Gunpie Adventures puts you right back into your favorite arcade in the 90s, blasting away at anything in sight. Gun down monsters, collect artifacts, and save the world in Gunpie Adventures!
Status: Released
Release Date: Mar 23, 2017
Business Model: Free to Play
Developer: NEXON
Publisher: NEXON
Category:

Mobile

Genre(s):

3D, Shooter

Platforms:

iOS, Android


Pros:

+Simple, intuitive controls.
+Nostalgic gameplay.
+Fun boss battles.

Cons:

-Suffocating number of things to do.
-Long loading times.



Recommended System Requirements:

OS: iOS 7.0 / Android 4.1 or later
HDD: 295 MB



Description: Gunpie Adventure is a free-to-play mobile arcade style shooter where players can gun down monsters to save the world from the evil Sirius. Take on other players in Chase Mode and put your childhood arcade shooting skills to the ultimate test!
This week group A was voted on by backers, revealing the Heavy Fighters across the three realms.
by DizzyPW
Today marks the second anniversary of Star Trek Online, and to celebrate, Cryptic will hold an anniversary event until February 6.
by MissyS
KingsRoad, the multiplayer action-RPG from Rumble Entertainment that delivers instant action/RPG depth, visuals and gameplay in browsers, toda...
by Mikedot