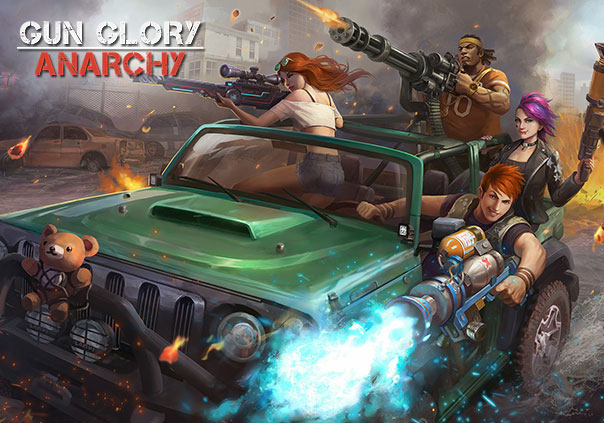 Gun Glory: Anarchy is a free-to-play mobile shooter developed by FLANGE STUDIO for Android and is currently being developed for iOS. In Gun Glory: Anarchy you will become an epic mercenary embarking on secret missions around the world to collect CORES, with the ultimate goal of taking down terrorist organizations and learning the truth about radiation diffusion.
Gun Glory: Anarchy includes both singleplayer and multiplayer modes. In singleplayer you can try to complete a variety of missions to accumulate experience points and level up your character. In multiplayer you can participate in heated PvP matches where you'll face off against your friends and other players from all around the world, battling to prove who is the very best! Don't think that you'll just be able to gun down your opponents with ease though. Ultimate skills throw a totally new dynamic into firefights and can greatly shift the tides of battle. The game also makes sure to match you up against opponents in the fairest way possible, even taking into consideration whether or not you and your opponents all have super weapons that you can use or not.
One of the more unique features to Gun Glory: Anarchy is its auto-movement system, which makes it much easier for you to take on your enemies. This is extremely convenient for mobile devices, where it is often hard to move and take actions at the same time.
By arming yourself with some of the deadliest sniper rifles, assault rifles, killing machines, and amazing ultimate skills nothing will be able to stop your search for the truth in Gun Glory: Anarchy.
Status: Released
Release Date: Jun 27, 2016
Business Model: Free to Play
Developer: FLANGE STUDIO
Publisher: FLANGE STUDIO
Category: Mobile
Genre(s): 3D, Shooter
Platforms: iOS, Android

Pros:

+Auto-movement system.
+Fair, even matchmaking system.
+Exciting ultimate skills.

Cons:

-No clan system.
-Long tutorial.



Recommended System Requirements:

OS: Android 4.0.3
HDD: 236 MB