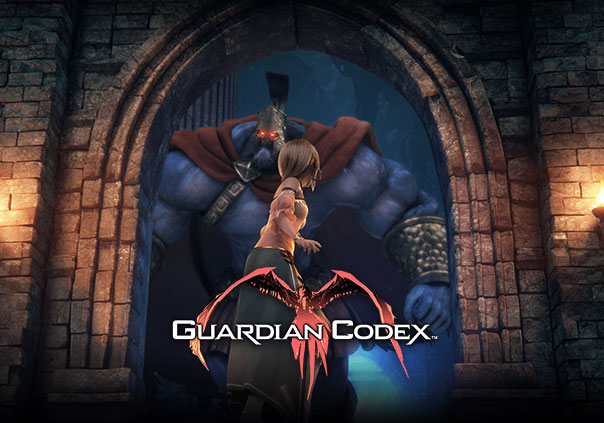 Guardian Codex is a free-to-play mobile fantasy RPG developed by SQUARE ENIX for iOS and Android. In Guardian Codex it is the year 2030 and war raging between two opposing factions, the Empire and the Resistance. Players will join up with the Resistance as an agent, getting sent into the virtual reality Codex with the task of finding the extinct legendary "Guardians". By locating Guardians the Resistance will be able to transfer them to the real world and use them to overcome the Empire.
The Guardians you collect will vary in size, appearance, and their combat style. Use your Guardians to defeat enemies by inflicting over 100 different attacks and status effects that will leave them begging for mercy. Multiplayer battles can also be held where groups of 4 players will use one Guardian from each teammate to defeat a boss. Do well and your team might come across some rare items as rewards for your  valiant efforts!
While you're participating in adventures, quests, and other activities you will be able to increase the strength of your Guardians through a variety of means. Leveling your Guardians up, evolving them into stronger Guardians, rebirthing them, and equipping new gear will all help your Guardians grow and become even more influential in battles.
Virtual reality is no longer a concept – it's here and will have a great influence on the outcome of the war between the Empire and the Resistance. The only way to better understand the Guardians is by encountering them head on in the Codex, but there will certainly be dangers lurking around every corner when such strong forces are nearby. Explore the Codex, collect Guardians, and defend the world from the Empire's tyranny in Guardian Codex!
Status: Pre-Release
Business Model: Free to Play
Developer: SQUARE ENIX
Publisher: SQUARE ENIX
Category:

Mobile

Genre(s):

3D, RPG, Fantasy

Platforms:

iOS, Android


Pros:

+Great character design.
+Good storyline.
+Awesome graphics.

Cons:

-Low drop rates.
-Doesn't have enough multiplayer chat options.
-Rewards could be better.



Recommended System Requirements:

OS: iOS 8.0 / Android 4.3 or later
HDD: 137 MB



Description: Guardian Codex is a free-to-play mobile fantasy RPG where players can aid the Resistance by exploring a virtual world called the Codex and collecting Guardians to use in battles. Beware of the Guardians' strength, for they aren't to be taken lightly.
Fans of the Japanese-based cars, famous for their handling quality and motorsport history, will be able to take to track and challenge friends...
by Mikedot
En Masse Entertainment has announced a four month special bonus period with Twitch Prime, offering special loot packs for its games each month
by MissyS
Game designer Brian Gilmore reveals more details about the Siege of Neverwinter event arriving September 18 in Neverwinter.
by MissyS