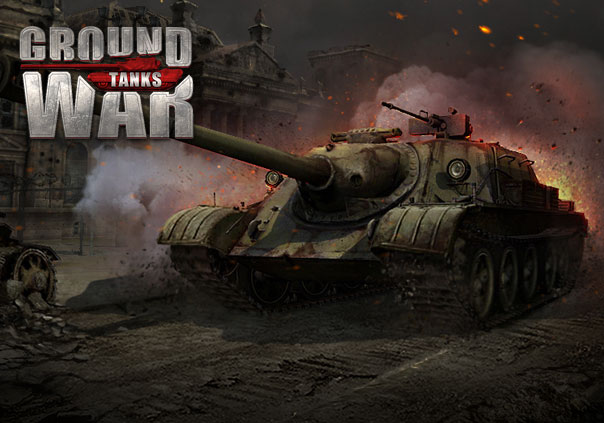 Ground War: Tanks features engaging fun game modes with RPG elements to allow you to build towards the ultimate tanks of each faction, or bulk up your components and crew of individual tanks to create the ultimate roster of war machines.
Features:
Fully Unity: Pick and and play Ground War: Tanks on the go, whenever you want! No download required.
Three factions: Build up your arsenal of Axis, Alliance, and Soviet war machines based on real world tank models.
Multiple Modes: Keep gameplay fresh with Commander Mode, Capture the Base, Point Mode, and a multi-wave co-op vs AI Defense mode.
RPG Elements: Earn credits to unlock new tanks, or upgrade your existing crew and components to build the ultimate tanks in each tier!

Status: Released
Release Date: Nov 05, 2014
Business Model: Free to Play
Developer: Gamebox
Publisher: Gamebox
Category:

Browser

Genre(s):

3D, MMO, Shooter

Platforms:

PC


Editor's Score: 3/5

Pros:

+Large roster of tanks.
+Accurate historical depictions of World War II tanks.
+Playable in browser with small Unity patch.
+Smooth easy to learn controls.
+Fun original modes.

Cons:

-Similar to existing tank shooters on the market.
-May be too forgiving for hardcore veterans of the genre.



Recommended System Requirements:

Updated Unity Engine Plugin and Standard Internet Browser.



Description: Ground War: Tanks offers fast fun gameplay on the go. Pick up and play competitive team-based tank fights whenever, wherever, and build the ultimate roster of World War II war machines!
Black Desert Online is one of those MMO experiences that comes around once every five years or so.
by ApocaRUFF
To prepare for the UK retail release of Dying Light on February 27th, Techland has unveiled the "My Apocalypse" Collectors Edition – a u...
by Mikedot
Why has this buy-to-play CCG from Valve gone from 600,000 players to less than one thousand?
by Ragachak